Nord Stream 2 is an international project and any threat against it is a concern – Kremlin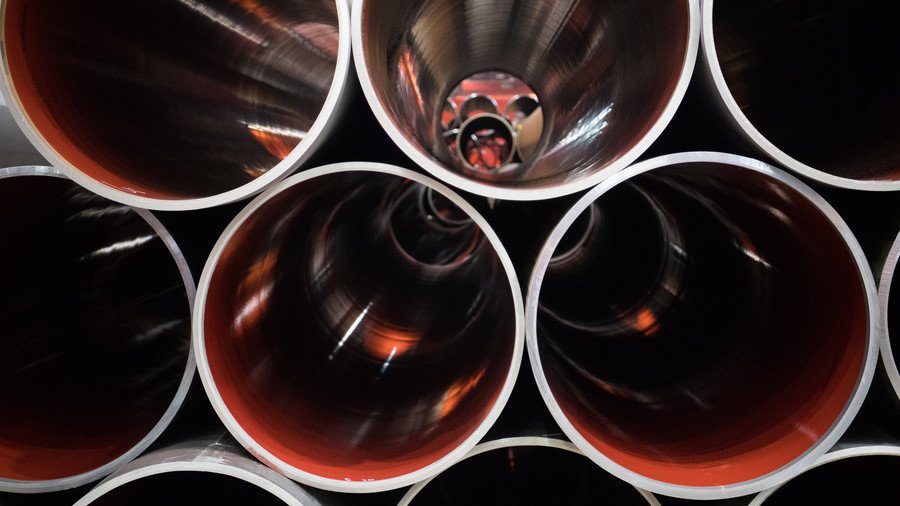 Trump's recent attacks criticizing a gas pipeline project connecting Russia and Germany, which he made ahead of his meeting with Vladimir Putin, are a matter of concern, the Kremlin's spokesman told RT.
"Let's not forget that Nord Stream 2 is an international project, not simply Russian-German. This joint project has several participants, big companies from various nations," Dmitry Peskov said, in an exclusive interview. "Certainly, threatening those shareholders or threatening Russia and Germany with sanctions in response to the progress of the project is very concerning."
Earlier, US President Donald Trump had chastised Germany for buying Russian natural gas and for working on the pipeline, claiming that such trade amounted to Germany being a "captive" of Russia. His remarks were rejected by German officials.
Peskov expressed the hope that some "rudiments of a political will" to normalize relations between Washington and Moscow will be manifested by the US side during the summit in Helsinki.
"You know that our ties are currently in a deplorable state and you know that Russia wasn't the one to initiate such a collapse of the whole system of our relations," he said.
The spokesman clarified that the talks on Monday will not be about some kind of "bargaining" between the two leaders, but more about verifying each other's stance and "confirming or dispelling mutual concerns on certain issues."
When asked to comment on media reports claiming that Russia may announce that it's handing NSA whistleblower, Edward Snowden, over to the US in order to improve relations, Peskov replied: "No, this is out of question."
The spokesman also pointed out that that it would be "illogical and pointless" for Trump to link any progress in relations between Russia and the US to the issue of Crimea. "We don't wear rose-tinted spectacles," he said, but added that there are some grounds to believe that the US leader may refrain from applying the Crimean mantra used by so many officials in the West.
Watch the full interview with Peskov on Saturday.
You can share this story on social media: