'Russians will die in Tallinn if they invade': Estonian commander launches bizarre rant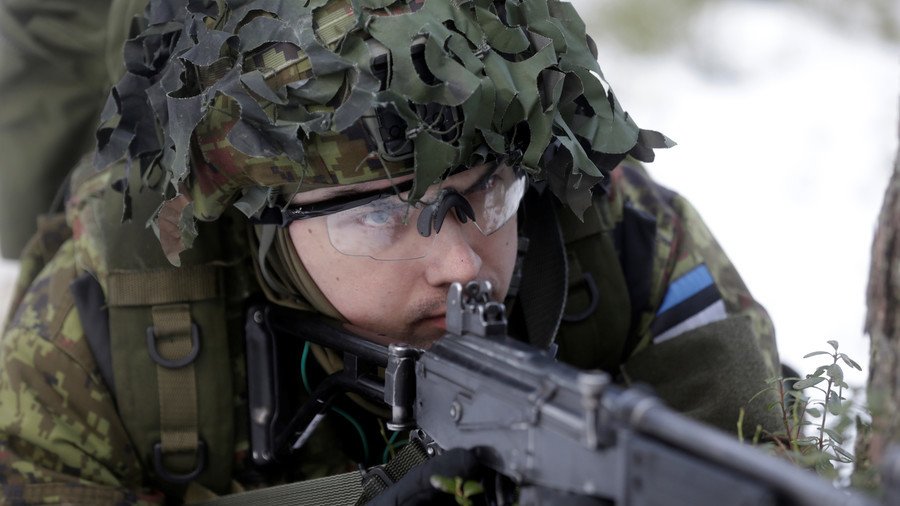 An Estonian Defense Forces commander – who confessed to fighting bloodthirsty Russians in his dreams – vowed during a bizarre interview with Politico that Russian troops "will die in Tallinn" if they ever dare to invade.
Members of the 6,000-strong Estonian Defense Forces – half of whom are conscripts – have likely pondered a perceived 'Russian threat' at some point but surely none went as far in their militarist musings as Colonel Riho Uhtegi, who leads the tiny country's defense force.
Adding some Baltic flavor to a lengthy Politico article on the scale of the Russian scare in the region, Uhtegi touched upon the scenario that Russian troops may take over all of Estonia in a matter of days, if not hours, quickly seizing the capital city Tallinn.
Fixing the reporter with "that dead-eyed Baltic stare," the commando chief said: "They can get to Tallinn in two days. But they will die in Tallinn. And they know this. … They will get fire from every corner, at every step." The Russians may capture Tallinn and beyond, but then "we will cut their communication lines and supply lines and everything else," he threatened.
Estonia's special forces share the values of American Green Berets, according to Uhtegi. Their size and capabilities are unknown but, judging by Uhtegi's rhetoric, they can make some trouble: "We are, during peacetime, able to build national total resistance against whatever enemy."
Uhtegi, who served as a conscript in the Soviet Army back in mid-1980s, said his path towards becoming a warrior started when he fired his first shot at the Russians… in a dream.
"There was a battle, just next to my hometown. Us against the Russians. And we were badly organized, of course … All my friends were there," he said. At the end of his heroic story, the Estonian guerillas were overpowered by the Soviets, but that gave him a sense of what fighting looks like.
"Most of us died. And I smelled the blood and the ammunition so clearly. I picked up a Kalashnikov from a dead Russian soldier and I shot at them," Uhtegi continued. "And then we ran and hid in the woods. We were being hunted. At first we had a squad. And then only a few guys."
Afterwards, the commando chief said, he felt the need "to build the freedom of the homeland," joining the newly-established Estonian army and quickly rising through ranks. And now there are good reasons to believe Russia faces a furious-yet-mighty enemy on that side of the border.
That aside, Moscow has been branded a 'threat' by NATO and its members on numerous occasions. The military alliance eagerly used such a pretext to conduct large-scale drills and increase its military presence on Russia's borders. Moscow, in turn, maintains that it never seeks confrontation, stressing that while it conducted military drills on its own soil, the US has done so on foreign territories.
Like this story? Share it with a friend!
You can share this story on social media: