'We want to play for our country': Gaza amputee footballers aspire to reach the top (VIDEO)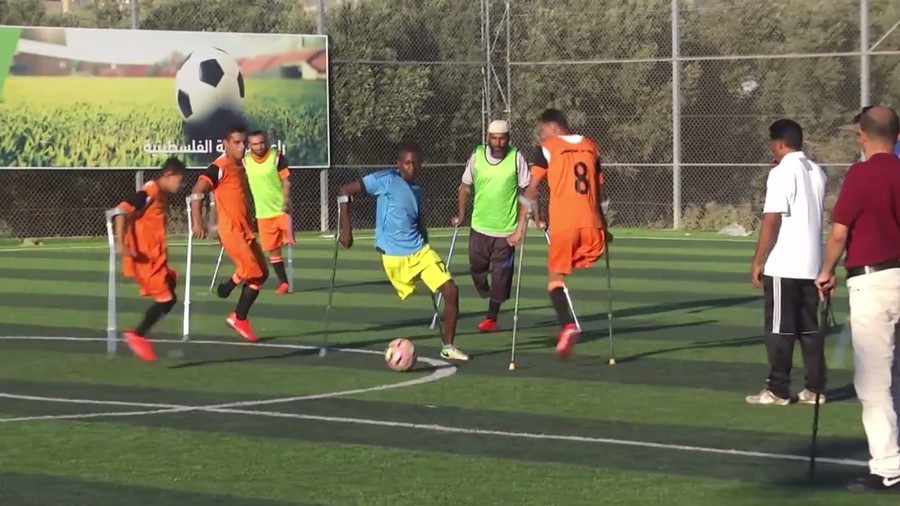 Gaza's amputee footballers don't let their injuries stop them scoring on the training pitch and beyond as the Palestine Amputee Football Association aims to play at international level.
At a training session in Deir al-Balah in central Gaza Monday, the players – who are missing legs – engaged in a fast-paced game, using their crutches to move around the pitch while exchanging passes and scoring goals.
Young amputee Ibrahim Khattab told Ruptly he lost his leg when Israel shelled his home during the 2014 war on Gaza, Operation Protective Edge.
"My older brother was injured and his two legs were crushed, his bones were broken," he said. "I dream to form this team, God willing, and everyone will see how good the team is, the team consisting of wounded people, which will be better than an ordinary team and God willing, we will be a better team."
The team is made up of players aged between 13 and 35. Gaza is home to a disproportionate number of amputees, some of whom lost their limbs because Gaza's medical facilities are strained and patients are often denied permits to leave Gaza for further treatment.
The team formed on March 30, the day of the first Great March of Return protests which saw 12 Palestinians killed and as many as 500 wounded. At least 50 people have had limbs amputated after being wounded by Israeli fire during the protests.
"The goal of the team – and there will be a different teams in other provinces of Gaza – we will assemble a group of players who will represent Palestine in international and sports events," the team's technical director Mahmoud Al-Naouq said. "This is the main goal of the Palestine Amputee Football Association."
"I used to have a dream which I have now discarded," player Islam Abu-Amoom said. "Now I have a new dream, to represent Palestine, to be a new outstanding goalkeeper in the team, so as to play with the national team in the future."
Like this story? Share it with a friend!
You can share this story on social media: