'Mom, Dad, I love you': Thai boys trapped inside the cave write letters to families (PHOTOS)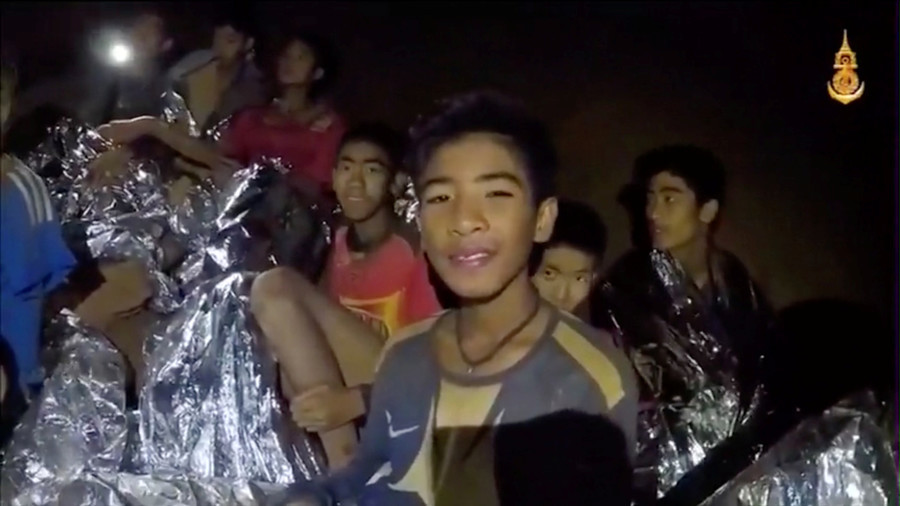 Twelve boys who have been trapped inside a Thai cave for over two weeks have written a series of heartbreaking notes to their families. Some asked for fried chicken, while others simply told their parents that they loved them.
The letters, handwritten in blue pen and pencil on pieces of paper, were released by the Thai Navy SEALs on Facebook earlier on Saturday. The boys, members of a football team between the ages of 11 and 16, have been trapped with their coach in Tham Luang cave in northern Chiang Rai Province since late June. Search and rescue efforts have been hampered by rising water levels.
"Dad, Mum, don't worry I'm fine. Tell Yord, prepare to bring me fried chicken to eat," wrote Chanin 'Tun' Wiboonrungrueng, 11, the youngest of the boys. The letters are the first messages from the trapped teens to their families.
Another boy, 13-year-old Sompong 'Pong' Jaiwong, put on a brave face: "Dear Mum and Dad, I love you. Don't worry, I'm safe. Love you all."
Nattawut 'Tle' Takamsai, 14, bravely assured his family that he can take care of himself; while Ekkarat 'Bill' Wongsookchan, 14, promised his parents to help them at the shop.
"Don't worry. I really miss everyone. Grandpa, uncle, Dad, Mum and brothers. I love you all," 13-year-old Panumas 'Mick' Saengdee wrote.
Duangpetch 'Dom' Promthep, 13, called on his parents not to forget to throw him a birthday party. Dom's teammate Peerapat 'Night' Sompiangjai has already missed his birthday party while stranded inside the cave. His parents are reportedly keeping his birthday cake in the fridge.
The team's coach Ekaphol 'Ake' Chantawong has apparently taken the blame for the incident. In his letter, the 25-year old apologized and vowed to take care of the boys. "Thank you for your kind support and I would like to say I'm really sorry to you all," he wrote. Chantawong also addressed his aunt and grandmother, asking them not to worry about him. "Aunt, please tell grandma to do vegetables paste and crispy pork skin. If I can go out, I'll eat it," he wrote.
Hundreds of rescuers, mostly Thai Navy SEALs, are working to provide those trapped in the cave with all necessary supplies while pumping water out of the complex. More than 100 chimneys are being drilled into the mountain to reach the team, rescue operation chief Narongsak Osottanakorn said on Saturday. "Some [of the chimneys] are as deep as 400 meters... but they still cannot find their location yet," he added. According to Osottanakorn, current conditions of water, air and the children's health are still "most suitable" for evacuation.
In the meantime, oxygen levels have fallen inside the cave complex. Every inhalation means more oxygen is taken from the cave pockets and every exhalation means more carbon dioxide. "When oxygen in our blood is low, more carbon dioxide will enter the blood stream. If it reaches a certain level, it could harm our body, no matter how much oxygen there is in the air," Osottanakorn said.
The operation was overshadowed by the death of a former Marine who died from lack of oxygen after bringing much-needed gas supplies to the group on Thursday. The 38-year-old rescuer is said to have lost consciousness on the return dive as he apparently did not have enough oxygen for himself.
Some good feedback from cave experts in Thailand. Iterating with them on an escape pod design that might be safe enough to try. Also building an inflatable tube with airlocks. Less likely to work, given tricky contours, but great if it does.

— Elon Musk (@elonmusk) July 7, 2018
The large-scale rescue efforts are being carried out amid intense media attention and public interest. On Friday, Tesla founder Elon Musk said he was sending teams from his SpaceX company and Boring Co. engineering firm, which is developing tunneling systems.
Think your friends would be interested? Share this story!
You can share this story on social media: