Pompeo brings Kim 'Rocket man' CD from Trump – report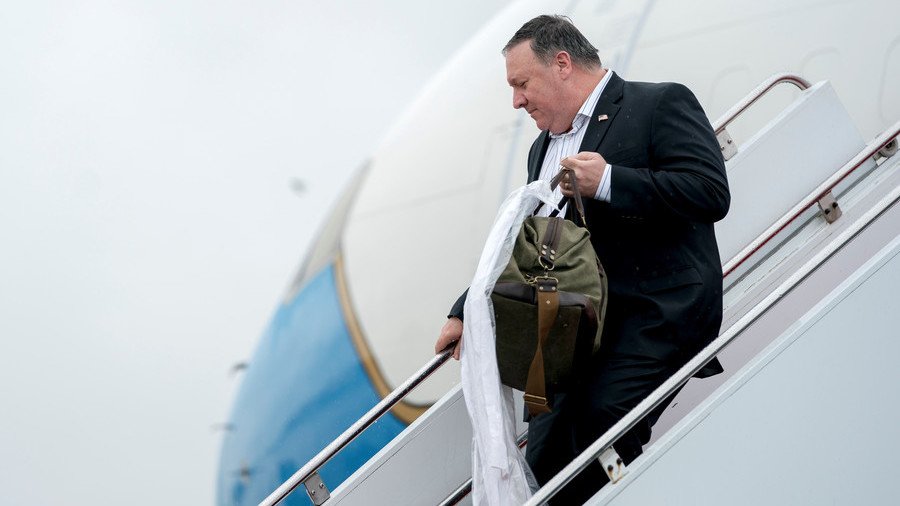 US Secretary of State Mike Pompeo, who has landed in Pyongyang for high-level talks, will reportedly deliver a gift for Kim Jong-un – a record of the song 'Rocket Man' by Elton John, according to South Korea's daily Chosun Ilbo.
The publication said the idea of sending the record stemmed from the milestone meeting between the two leaders in Singapore in June. Kim mentioned that Trump once labeled him 'a little Rocket Man' when US-North Korea ties hit their nadir last year on the heels of Pyongyang's nuclear tests and missile launches.
"Trump then asked Kim if he knew the song and Kim said no," the South Korean daily quoted a Washington official as saying. The US president has written a message on the CD and signed it, according to the report.
Several times last year, Trump referred to Kim "little rocket man," while Kim angrily retorted by labelling the president a "mentally deranged dotard." Still, the firebrand American leader consistently tried to smooth things over with the Pyongyang ruler.
On one occasion in 2017, Trump sent his ghostwritten 1987 bestseller 'The Art of the Deal' via retired NBA star Dennis Rodman, who visited Pyongyang several times before. Other gifts included a copy of 'Where's Waldo?' – a mermaid puzzle for Kim's daughter – signed jerseys and several bundles of upmarket soap.
The latest gift – Elton John's hit song, which first appeared on John's 1972 album – tells the story of a man feeling "lonely out in space," and features the following line: "I'm not the man they think I am at home, oh no, I'm a rocket man, rocket man burning out his fuse up here alone."
The refrain ironically references what Washington would feel about denuclearizing North Korea: "And I think it's gonna be a long, long time, till touch down brings me round again to find."
Gifts aside, Pompeo's spokeswoman Heather Nauert said he will seek "to fill in some details" on North Korea's commitment to give up nuclear weapons. "I expect that the DPRK [Democratic People's Republic of Korea] is ready to do the same," Nauert said earlier.
Looking forward to continuing our work toward the final, fully verified denuclearization of #DPRK, as agreed to by Chairman Kim. Good to have the press along for the trip. pic.twitter.com/qH72JkwuGx

— Secretary Pompeo (@SecPompeo) July 5, 2018
Next stop: Pyongyang. I look forward to continuing my meetings with North Korean leaders. There's much hard work ahead but peace is worth the effort. pic.twitter.com/eozwL3Mx28

— Secretary Pompeo (@SecPompeo) July 6, 2018
In an earlier tweet Pompeo said Trump believes Kim wants a "different, brighter future" for North Koreans. "I spoke with POTUS while we were both in the air. The President told me he believes that Chairman Kim sees a different, brighter future for the people of North Korea. We both hope that's true," he said.
Think your friends would be interested? Share this story!
You can share this story on social media: