'Trump's playing them all, wary of supplanting by French, UK will give in to US on NATO spending'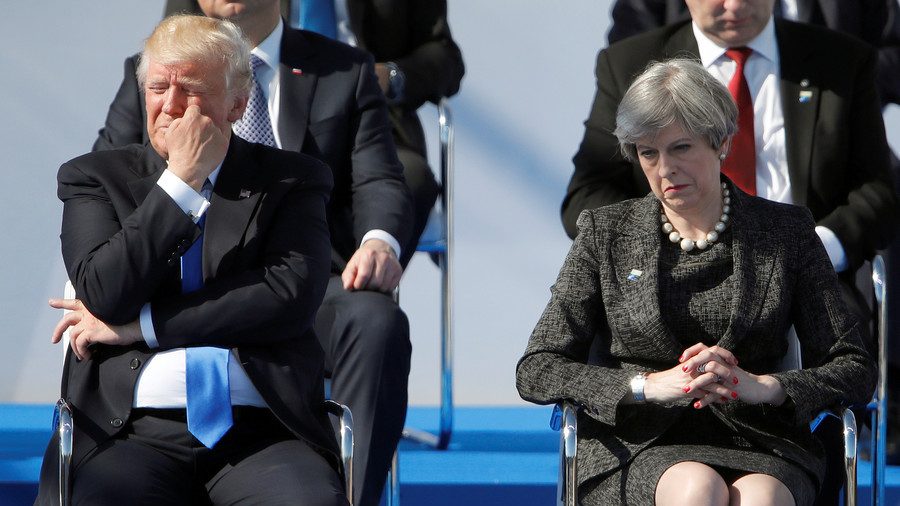 In the so-called special relationship, the US calls the shots and the UK tags along like a poodle meaning London will give in to the Americans again and increase military spending, says political analyst Chris Bambery.
Pentagon chief James Mattis is apparently threatening to drop the UK as America's main military ally. Mattis has written to British Defense Secretary Gavin Williamson saying Britain would be dropped for France. The letter's been leaked to the media ahead of next week's NATO summit in Brussels where Trump is expected to push US partners to boost their defense spending.
"As global actors, France and the US have concluded that now is the time to significantly increase our investment in defense. Other allies are following suit," Mattis wrote. He added: "I am concerned that your ability to continue to provide this critical military foundation ... is at risk of erosion."
RT: Do you agree with Donald Trump's perception that NATO benefits from the US much more than Washington gets in return?
Chris Bambery: NATO is dominated by the US and it calls the shots, he is very well aware of that. That has always been the case and Trump is aware of that… There is actually an element of continuity between the Obama administration and Trump, in the sense of the swing away from Europe, they swung away from the Middle East under Obama towards Pacific. That is Trump's primary goal. He is more interested in relationships with China than he is with Europe. And you can sense the frustration as he is looking at pivoting away from Europe, pivoting away from Middle East.
Also that frustration comes in with the European Union in particular. It is articulated there. It takes a form of trade wars and now this attack on defense spending. Strangely picking on Britain which…spends more than any of the other countries in Europe, particularly the Germans. Choosing to pick on the British seems crazy but I think the real target is the Germans in particular who don't spend anything like France or Britain on military spending.
RT:Britain is not likely to yield to this as it is already meeting its criteria? Will London give into the pressure and look to boost its defense spending? What it the end game here?
CB: I am not so sure about that. Because traditionally, in this so-called 'special relationship' between America and Britain, it is always the US that's called the shots and Britain has trailed along like a well-behaved poodle. I suspect that as post-Brexit Britain worries about where its future lies, the temptation is going to be 'we need to hold close to the US, even if they are not that interested in us anymore.' Even if it has been pointed out that Donald Trump is fed up with Theresa May and a teacher-like way of operating. The Brits are still likely to tag along behind. And probably already now the Defense Chiefs are saying to the British government 'Well, this is what we said, we have to increase spending.' I suspect actually the Brits will give in to the Americans if push comes to shove. And they are looking over at France and the friendship that Trump supposedly has with Emmanuel Macron, very worried that this special relationship, as I said, the Brits can somehow be supplanted by the French. In London there will be desperation to cling to the coattails of the US.
RT: Is France likely to become the US' prime military ally? Or is it being played here like a bit of a bargaining chip?
CB: I think it's partly being played as a bargaining chip. Both Britain and France, in terms of Europe, have always been the key military assets of the US. They are the ones who have spent more than Germany on military spending and they preferred it that way.
It's a way for them, by having an increased military role, to offset the German economic dominance in the EU. But now, post Brexit…there are worries in Washington.
America has always wanted Britain to be fully part of Europe as its loyal watchdog in the EU. And it's not very happy that its loyal watchdog is leaving the EU. So there are tensions there as well. I think it's a game. There's pressure on the French to up their military spending, pressure on the Germans with Trump attacking Angela Merkel's bewildered administration and there's pressure on the Brits. I think Trump's playing them all off against each other here.
Think your friends would be interested? Share this story!
You can share this story on social media: