Real-life GTA: Daring thief seizes IDF attaché's car with secret files inside (VIDEO)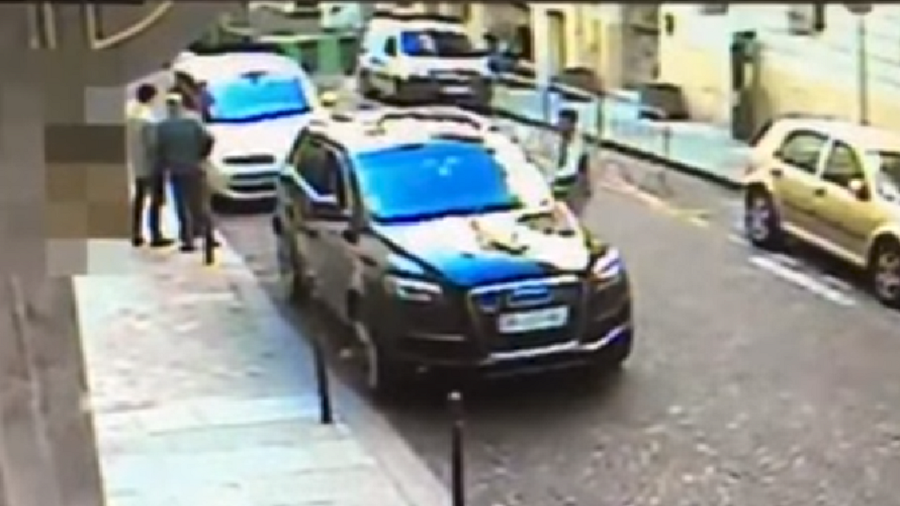 A car thief has stolen an IDF military attaché's posh SUV with secret files inside – right under the nose of the driver and bodyguard. The brazen seizure happened in broad daylight and was caught on CCTV cameras.
The incident, which the Israeli media described as "embarrassing," occurred some time last week in an undisclosed European city. An Israeli military attaché arrived at a hotel in his official black Audi SUV for a meeting with an IDF general, who was visiting the city, Ynet reported.
The car was parked near the entrance, while the local driver and an Israeli bodyguard waited for the officer outside the vehicle. For some reason, they left the engine running and a nimble thief was quick to take advantage of the blunder.
In the footage, the young man is seen jumping into the luxurious SUV from the side of the road and quickly driving off, leaving the driver and bodyguard stunned. The bodyguard bolted after the car a few seconds later, but it was already too late.
The car was abandoned by the thief shortly afterwards as it was immobilized remotely with the assistance of carmaker Audi. According to Ynet, it was later discovered in the city's predominantly Muslim neighborhood, with a wallet and two Israeli military uniforms missing.
However, the Jerusalem Post reported that the attaché's laptop with sensitive data was also inside the SUV when it was stolen.
The IDF protocol forbids leaving military computers in the homes of officers or in their cars to avoid leaks. An investigation has been launched into the Israeli servicemen involved in the incident, with "steps expected to be taken" against them.
Back in 2016, the head of the IDF manpower directorate, Major General Hagai Topolansky, was forced to resign after a laptop with sensitive data was stolen from him. A year before that, artillery commander, Lieutenant Colonel Ilan Levy, was discharged from service as his car with secret files inside was stolen. The documents were later discovered in the West Bank by the Israeli Shin Bet secret service.
Like this story? Share it with a friend!
You can share this story on social media: