Mass 'religious' suicide? 11 bodies found in India's capital, most blindfolded & hanged (GRAPHIC)
Published time: 2 Jul, 2018 01:02
Edited time: 2 Jul, 2018 07:06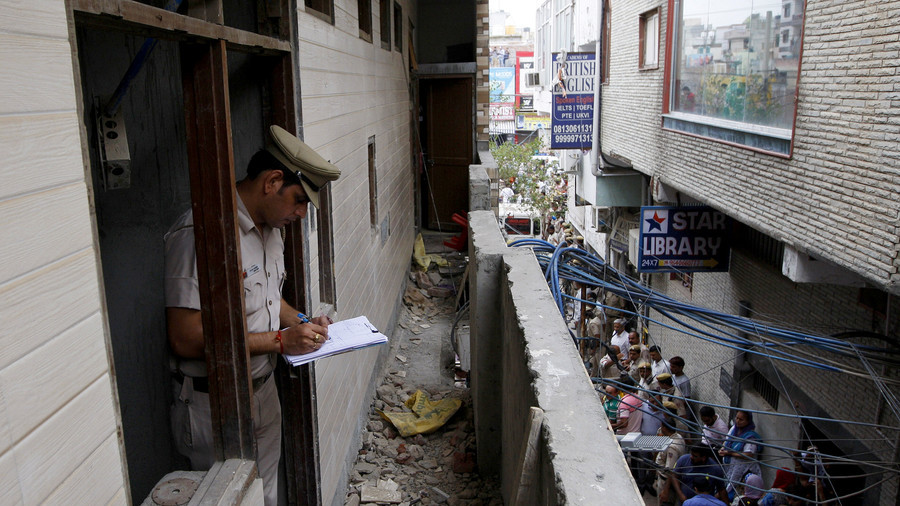 An Indian family of 11 has been found dead in New Delhi, with 10 members blindfolded and hanging from a ceiling. Initial reports indicate a twisted spiritual mass suicide attempt, but police aren't discounting other possibilities.
The bodies of seven women and four men were discovered in the Burari suburb of the Indian capital on Sunday by their neighbor, who called the police in shock over what he has witnessed.
When authorities arrived at the scene, they discovered 10 blindfolded bodies, with cotton stuffed in their ears, hanging from an iron grille in the home's courtyard, suspended by cables and 'chunnis' (scarves with religious motifs), local media report. The body of an 11th person, reportedly in her seventies, was found strangled and lying on the floor of the house.
The victims, which police say belonged to a single family, are believed to have committed a mass religious suicide, as authorities failed to discover any forced entry, gunshot wounds, or anything that would clearly indicate a homicide.
Instead, according to reports, law enforcement discovered handwritten notes, which indicated that the family had meticulously prepared for the "mass salvation" and had carefully examined ways of hanging themselves. No suicide notes were found at the scene. Only a dog inside the house survived the mass murder.
Shocking disclosure by Delhi Police in Burari 11 deaths case.

Hand written notes found which point towards observance of spiritual/mystical practices by the whole family. These notes have similarity with the manner in which the mouths, eyes etc of the deceased were tied 👇🏻 pic.twitter.com/2HUEVYmChN

— SaahilMurli Menghani (@saahilmenghani) July 1, 2018
Based on the evidence, the victims were in "observance of some definite spiritual or mystical practices," police said in a statement, according to AP. "Coincidentally, these notes have strong similarity with the manner in which the mouths, eyes, etc. of the deceased were tied and taped," the statement added.
While police await the autopsy reports on the victims, including two 15-year-old boys, authorities have not discounted homicide as a possible cause of death. Treating the incident as a murder case, law enforcement teams are now analyzing call records from the victims' mobiles for possible clues and are interviewing witnesses. "It is still too early (to know what happened). It is an ongoing investigation and we haven't ruled out anything," a police source told AFP.
Horror in Jonestown: Cult survivor recalls brainwashing, blackmail & mass suicide (AUDIO)
According to one version of the events, shared with India Today by an anonymous police source, the mass suicide unfolded after family members were served sedatives with their dinner. Then at least one of the family allegedly proceeded to blindfold the rest of the unconscious victims before hanging them.
If you like this story, share it with a friend!