Jordan's King & Crown Prince team up for live-fire action movie (VIDEO)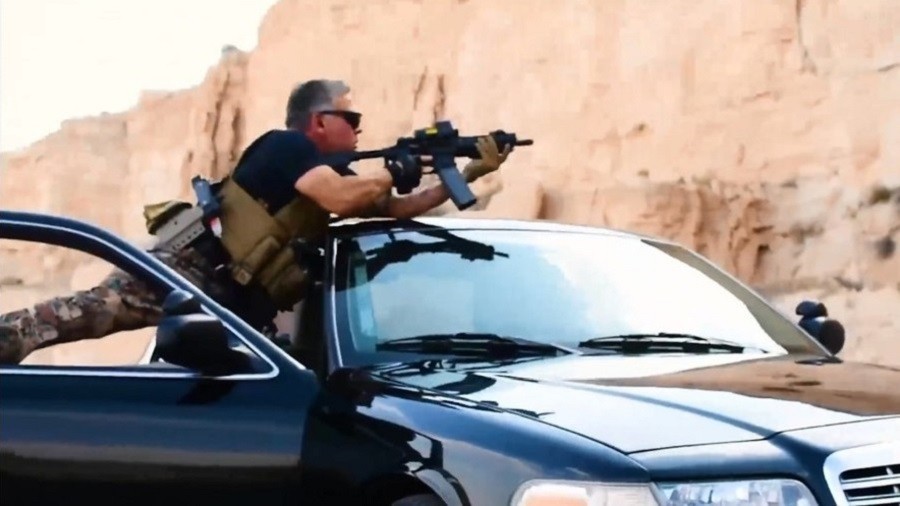 Crown Prince Hussein of Jordan celebrated his birthday in dramatic fashion, teaming up with his father, King Abdullah II, to film a live-fire training exercise straight out of a Hollywood blockbuster.
In a video posted by his mother, Queen Rania, Hussein and his father pull up to a military training course in a black Ford, throwing stun grenades and opening fire on steel targets.
The father and son duo then advance through the mock village, methodically pumping off rounds, and working as a team to breach and clear rooms. After their 'John Wick' escapades, the King and Prince make their getaway by car; with King Abdullah leaning out the window, blasting away with his Skorpion submachine gun.
Queen Rania posted the video on Facebook as Hussein celebrated his 24th birthday. "We grow more proud of you every day," she gushed. "I see so much of His Majesty in you, including your shared love for the military."
At the tender age of 24, Hussein is the heir apparent to Jordan's throne. He has already served with the Jordanian military, made the welcome speech at a session of the World Economic Forum, and chaired a UN Security Council session. His Instagram account has more than 1.5 million followers, and the image-conscious prince regularly shares pictures of himself training, playing football, and riding motorcycles.
Hussein's father also likes to live a life of adventure, and lists skydiving, motorcycling, water sports and collecting ancient weapons among his hobbies. The 56-year-old king has also received extensive military training, and is trained to fly Cobra attack helicopters.
If you like this story, share it with a friend!