Aggressive US campaign to overthrow Iranian govt serves only to boost its support – experts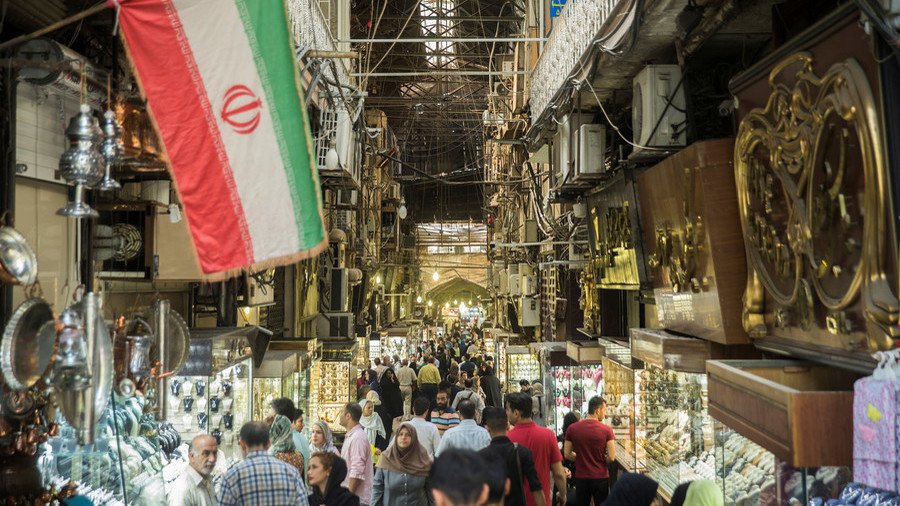 This week's economic protests in Iran invigorated those who tout any trouble as a sign of the government's imminent fall. What they fail to realise is that foreign hostilities merely boost its support, experts have told RT.
On Monday, there were public disturbances in the Iranian capital, mostly centered around its iconic Grand Bazaar. The protestors – the majority of them merchants – were angry about the weakness of the Iranian economy and particularly the devaluation of its national currency, the rial, over the past months.
The clashes appeared to be a far cry from what happened six months ago, when economic protests in Iranian provincial cities escalated into several nights of violence with dozens killed and ended only after a major security crackdown. But they gave the usual critics of Tehran an opportunity to blame it for being unresponsive to its people and a failure in terms of policy-making.
#Iran's corrupt regime is wasting the country's resources on Assad, Hizbollah, Hamas & Houthis, while Iranians struggle. It should surprise no one #IranProtests continue. People are tired of the corruption, injustice & incompetence of their leaders. The world hears their voice. pic.twitter.com/1iw9JAXKC0

— Secretary Pompeo (@SecPompeo) June 27, 2018
Israeli Prime Minister Benjamin Netanyahu was among the more creative in this crowd. He used a football as a prop and tried to capitalize on Iranians' pride for their national team – which received a royal welcome after returning from the FIFA World Cup with one win and one draw in the bag – to try pit the people of Iran against their government.
This one-dimensional view on the situation in Iran on the part of the US and its allies is "a travesty" considering Washington's efforts to hurt the Iranian economy, journalist Finian Cunningham told RT.
"There are simply genuine popular grievances against economic austerity, soaring consumer inflation, unemployment and so on. One can attribute blame to a lack of government responsiveness to social needs," he said. "But by far the bigger factor is the international context of how the US and the European states have not delivered on their mandated commitments to normalize economic relations with Iran after the landmark nuclear treaty was signed three years ago."
The treaty negotiated under the Obama administration was sold to the Iranian side by, among other things, a promise of an economic boost from new business opportunities. Donald Trump chose to violate the agreement and is actively pressuring his allies to cut all ties with Iran, including in an oil trade that is a crucial source of foreign currency for the Iranian economy. The devaluation of the rial was to a great degree caused by a panic run on the national currency in favor of the hard foreign ones, as Iranians feared the repetition of their experience from the oil embargo by the US and its allies that preceded the nuclear deal.
"The global campaign by the US to attack Iran's economic lifeline oil industry is an outrage. It is a violation of international law, and is tantamount to an act of war by Washington. It also demonstrates the hyper-bullying behavior of Washington which is imposing its dubious national laws and prejudices on the rest of the world," said Cunningham.
This is quite ironic that the countries, which want to see the government in Tehran fall and be changed with something more to their liking, are lending it credibility by such hostile policies, said journalist Dave Lindorff of the ThisCantBeHappening.net news website.
"The Iranian government can point to foreign efforts to harm Iran's economy, just as in the case of Cuba and more recently in Venezuela, it helps the government to win support from its people, even those who are protesting," he told RT.
"It has long been argued that the Castro regime in Cuba was able to survive so long, even after the loss of Russian aid after the collapse of the Soviet Union, because it was able to blame the hardships of life in Cuba on the US blockade and embargo. Iran is making the same kind of claim, with good reason, and no doubt is winning much support and dampening support for street protests and anti-government activity because people don't support foreign threats to their country."
Lindorff pointed out that even if the wishes of Iran's critics do come true and a public protest ever reaches a point when it causes the fall of the government, what comes in its place may have even more hardline policies.
"The last truly democratic government Iranians had was in the 1950s and it was overthrown in a coup fomented and backed by the CIA and British intelligence and produced the tyranny of the Shah," he pointed out. "Iran's military is very powerful, and would certainly be a player in any struggle for power should the current government collapse, and that, of course, would mean military rule, a not uncommon outcome in the Middle East."
Both experts agree that Trump's position is weaker that Obama's was when he championed the previous oil embargo against Iran. China, a major oil buyer, will not stop purchasing crude from Iran and convincing Europeans that they should again pay the significant cost of readjusting their oil supply schemes to please Washington may not be successful.
As for this week's protest, Professor Seyed Mohammad Marandi from the University of Tehran says its significance should not be overstated.
"Western-funded Persian media outlets along with state-owned news outlets like BBC Persian tried very hard… to create a sense of fear and insecurity among Iranians and they encouraged violence. Western cooperating media outlets also manufactured a narrative of crisis as they have been doing for the last four decades," he told RT. He added that "it has been many years since I've seen Iranians so united against an aggressive foreign adversary."
Think your friends would be interested? Share this story!
You can share this story on social media: