Guns for catapults: Mexican mayor hands out slingshots to police after they fail firearm use test
Published time: 28 Jun, 2018 09:05
Edited time: 29 Jun, 2018 09:37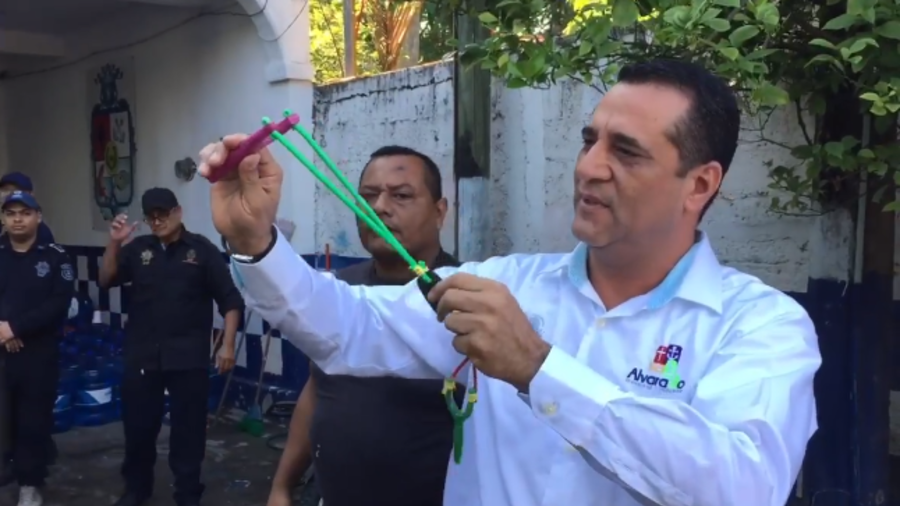 Police in a Mexican municipality are taking to the streets armed more like Bart Simpson than Dirty Harry after officers saw their guns replaced with slingshots and rocks.
Less than a quarter of the officers in the 130-member police force in Alvarado, on Mexico's Gulf Coast, have passed control tests for the use of firearms – a fact that prompted Veracruz state officials to take away their weapons altogether. Now, in a symbolic protest, Mayor Bogar Ruiz Rosas has handed officers catapults and bags of rocks in order to fight crime in the city.
READ MORE: Mexican tourism falls dramatically due to rising drug cartel violence
"It's clear to us that this is a totally political issue and we have to be prepared to carry out our work, professionally, as you have seen us do it," he said in a video posted on social media.
Speaking at a ceremony where he distributed out the primitive weaponry, Ruiz said he considers the move an abuse of the state government's authority and added that he will hold the state officials responsible for any criminal acts that occur while the officers remain unarmed.
"Today we delivered slingshots to our municipal police. The citizen governor made the decision to take all the weapons, which disqualified him completely, as it violates our autonomy," he said.
State governor Miguel Ángel Yunes Linares told the media that the state confiscated the force's firearms because its members had not passed the proper training courses. Critics claim the move was aimed at destabilizing the local government ahead of state and local elections on 1 July, according to El Universal.
The state of Veracruz is known for outbreaks of violence. Earlier this year, the severed heads of a dozen people were found on the bonnets of vehicles in Veracruz city. The torsos of the victims were found in black plastic bags inside the cars. Graffiti on the bonnet indicated that the killings were linked to a local drug cartel, according to the Mexican magazine Proceso.
READ MORE: Mexican town's entire police force arrested over slain politician
Last year, more than 250 skulls were found on the outskirts of the city in what appeared to be a mass burial site for the cartels in the region. According to information released by the Executive Secretariat of Mexico's National Public Security System, 70 percent of homicides in Veracruz were connected with organised crime.
Think your friends would be interested? Share this story!