'We're not colonialists & don't cause chaos': Xi tells Mattis China won't concede an inch of land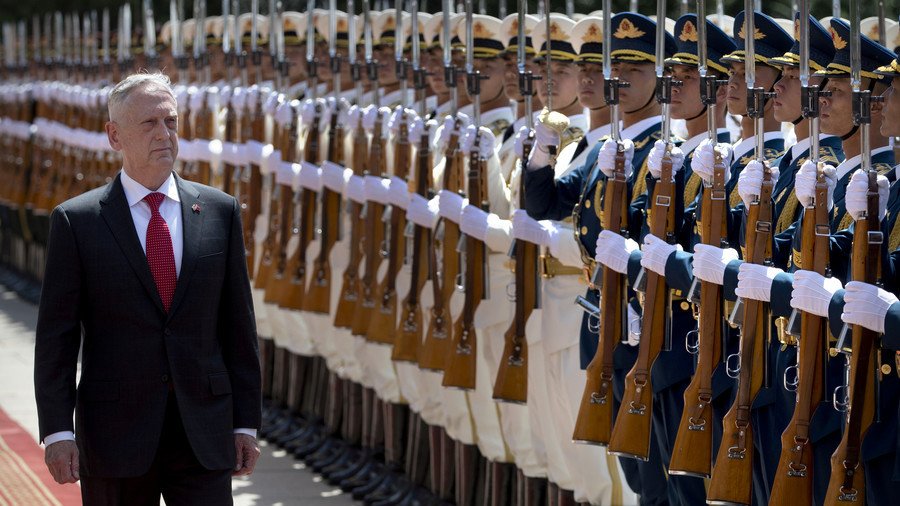 Beijing has no colonial ambitions but will never shy away from defending every inch of its territory, President Xi Jinping told US Defense Secretary James Mattis, amid growing tensions over the South China Sea and Taiwan.
"Regarding the issue of China's sovereignty and territorial integrity, our attitude is firm and clear. The territory left behind by our ancestors must not be lost. We do not want to share anything with others," Xi told Mattis in the Great Hall of the People in Beijing.
Washington's "patrols" of the strategic chain of reefs and small islands in the South China Sea, under the "freedom of navigation" pretext, have repeatedly made Beijing wary of American intentions in the region. During the meeting, Mattis made clear that Washington is adamant in its policies.
"We have a disagreement and I think the secretary was effective in saying these are long-standing principles," Randall Shriver, assistant defense secretary for Asian and Pacific Security Affairs and who took part in in the meeting, was quoted as saying by Washington Free Beacon.
While the US seeks opportunities to increasingly project its power and 'defend' its allies in the region against what it views as China's militarization of its periphery, Xi noted that Beijing has no history of causing chaos across the globe.
"We will not take the path of expansionism and colonialism and will not cause chaos to the world," Xi reassured Mattis. "The broad Pacific Ocean can accommodate China and the United States and other countries. China and the United States should promote the development of bilateral relations on the principle of mutual respect and win-win cooperation."
Symbolically renamed as the US Indo-Pacific Command last month to better reflect American focus in the region, it is the largest of five geographic combatant commands, has about 375,000 civilian and military personnel who are tasked with exerting US military might over roughly 52 percent of the Earth's surface. In addition to the South China Sea, US presence in the region also undermines Beijing's interests in Taiwan and East China Sea, which Washington aims to retain in its sphere of influence.
The issue of maintaining the 'One-China Policy' is of key importance to Beijing. Yet Washington National Defense Authorization Act for 2019 promotes strengthening "defense and security cooperation with Taiwan," including weapons sales for the island to maintain a sufficient self-defense capability.
'I'll do a lot of listening there': Mattis becomes 1st Pentagon chief to visit China in 4 years
Despite disagreements, Xi expressed hope that the Chinese and US militaries could maintain and build mutual trust. "Strengthening the exchanges and mechanisms at all levels of the two armed forces will help eliminate skepticism and prevent misunderstandings and miscalculations and accidents," he said.
'Here to stay'? US B-52 bombers fly near disputed South China Sea islands
Meanwhile Chinese Defense minister General Wei Fenghe, who also had a meeting with Mattis, warned his American counterpart that in any case Chinese military would "firmly defend national sovereignty, security and developmental interest".
Like this story? Share it with a friend!
You can share this story on social media: