Major blast & thick smoke grip construction site in S. Korea, killing 3 people (PHOTOS, VIDEO)
Published time: 26 Jun, 2018 09:00
Edited time: 27 Jun, 2018 07:34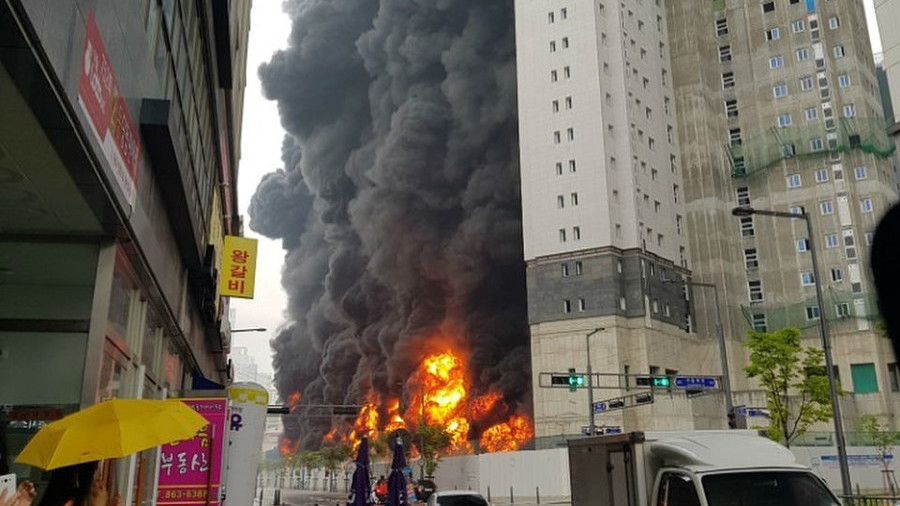 A massive fire has ripped through an apartment block construction site in Sejong City, sending a huge plume of black smoke into the air. The blast killed at least three people and left 37 injured.
More than 100 firefighters and 40 fire trucks battled a major blaze in Sejong City, some 110 kilometers from the South Korean capital on Tuesday. Nearly 170 workers were on shift at the constructions site, according to Yonhap citing construction firm officials.
A Seoul-based journalist said that workers were "seen calling for rescue from windows."
The fire claimed the lives of at least three people and left 37 more injured. It was previously reported that two people have serious injuries.
The smoke has been rising hours after the blaze started. The firefighters are trying to reach the purported epicenter of the fire in the basement of the building, according to local media. Residents are reportedly suffering from toxic gas inhalation and have to cover their faces with masks.
Workers did some painting work in the underground level earlier in the day and thus a lot of flammable materials were inside the building, Yonhap reports citing fire officials. The paper adds that fire alarm was not properly installed as the site was under construction.