'Suffocating, a scary scene': AirAsia passengers describe icy fog-filled plane (VIDEO)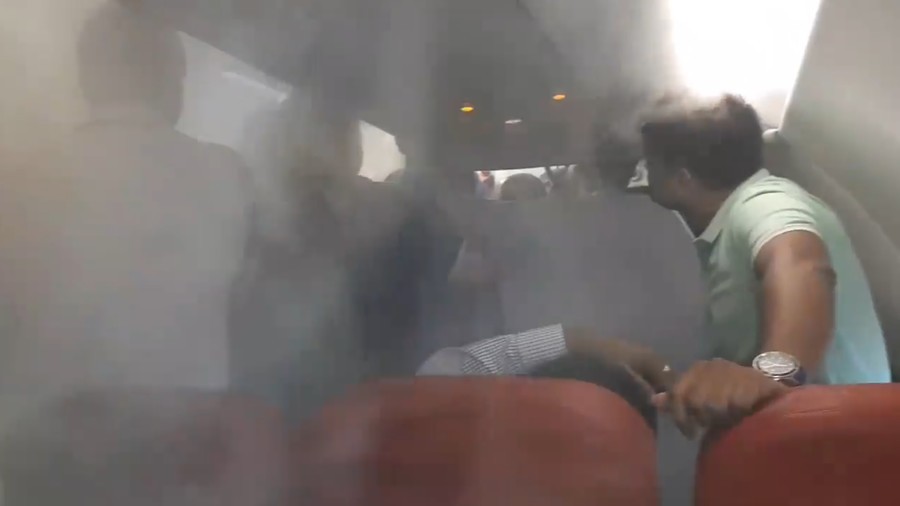 AirAsia India passengers have accused the airline of blasting them with icy air conditioning in an effort to force them off a delayed flight after spending hours on the tarmac.
The domestic flight from Kolkata to Bagdogra was delayed for more than four hours on Wednesday. Passengers were kept on the aircraft on the runway for two hours, during which time they were not given any food or water.
READ MORE: Nazi-saluting drunk tries to escape on tug vehicle after EasyJet rampage
The captain eventually told the passengers to disembark, but they refused because it was raining heavily outside. The captain then put the air conditioning on full blast in an apparent effort to force them out of the aircraft, passengers allege.
Passenger Dipankar Ray filmed the incident and told NDTV the air conditioning "created a scary scene as heavy fog was created inside the plane and it was very suffocating."
Ray said women on board vomited as a result, and that children were crying.
AirAsia India told RT the plane was delayed for four and a half hours due to a "technical requirement." It said the air conditioning posed no danger to the passengers, and the fog-like effect "is a normal occurrence on-board all aircraft when the air conditioning is operated in high humidity conditions."
"AirAsia regrets the inconvenience caused to guests on account of this disruption and would like to reinstate that the airline always prioritises safety above all," it added.
India's Directorate General of Civil Aviation (DGCA) responded to outrage over passenger footage of the foggy air streaming through the plane, and said it is investigating the incident.
Think your friends would be interested? Share this story!