Biker gang member arrested for firing anti-tank missile in Amsterdam (PHOTOS)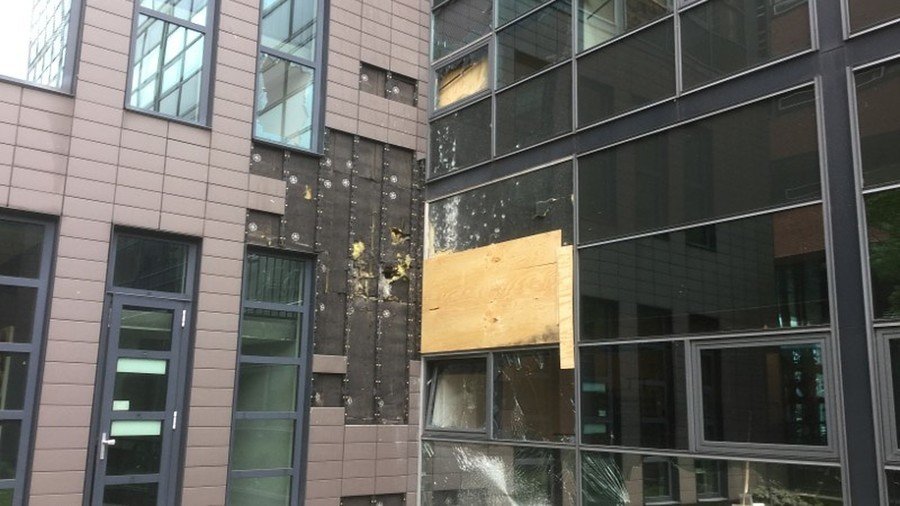 A motorcycle gang member has been arrested after an anti-tank missile was fired at an office building which houses a magazine publisher in Amsterdam. Police have not yet commented on how the suspect acquired the weapon.
The weapon was launched at approximately 11pm local time Thursday, shattering a window in the building. No-one was injured in the attack, according to police, who said the suspect had cut through surveillance cameras before launching the missile, reports Dutch News.nl.
Eyewitnesses reported hearing an enormous bang at the site. The rocket launcher was later recovered by police from the scene and removed for forensic tests.
The premises in the Dutch capital's Sloterdijk business district is a multi-tenant building and includes media company Pijper Media, which publishes magazines including Nieuwe Revu, Playboy, Marie Claire and Panorama.
READ MORE: Bikers v cops: Chaotic chase through Boston ends in roadblock shooting
It has not yet been confirmed if the attack was directed against one of the media outlets.
The suspect, reportedly a member of a motorcycle gang, was arrested in his home Friday morning, according to a police statement. The 41-year-old man was the president of Chapter Silencio – a branch of motorcycle gang Caloh Wagoh.
The chief editor of the Nieuwe Revu, Jonathan Ursem, confirmed the incident on Twitter and said that the magazine was back to work.
Ja, het pand waarin Pijper Media (o.a. Nieuwe Revu, Panorama, Playboy, Grazia) zit, is gisteravond laat beschoten. De schade binnen valt mee, we zijn weer aan het werk. Verder weet ik niet meer dan wat ik lees in de media. pic.twitter.com/k8c2F7RYyV

— Jonathan Ursem (@RevuJonathan) June 22, 2018
Panorama editors said in a statement that they are pleased the suspect has been arrested, adding that they were "very curious" about what the suspect has to report. "The only thing we of Panorama, and of course all colleagues of the other magazines at Pijper Media, can do now is to continue our work as well as possible," they wrote.
Panorama regularly writes about crime and has recently published articles on the Amsterdam-Utrecht underworld. According to Het Parool the magazine faced threats from another outlaw motor club in 2014 and signed an agreement to no longer report on their activities.
Think your friends would be interested? Share this story!
You can share this story on social media: