Yell, laugh, push: Oxfam slams French police for abusing, detaining migrant children at border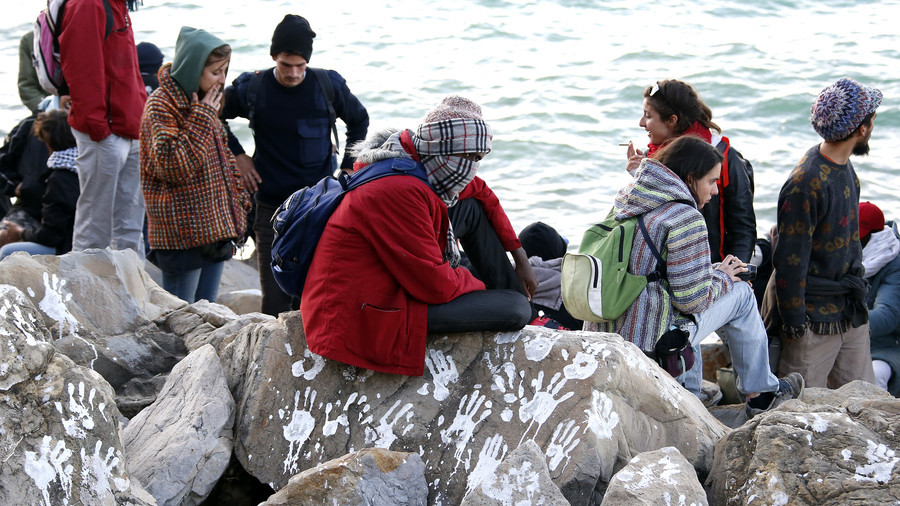 French police are abusing and illegally detaining migrant children who attempt to cross the border from Italy, UK-based humanitarian group Oxfam said. Many intercepted minors have even been left unable to contact their families.
Some 16,500 refugees and migrants are stuck near the small Italian town of Ventimiglia, 7km from the French border, Oxfam's new report, 'Nowhere but out,' calculates. One quarter of these people are children, mostly from Sudan, Eritrea and Afghanistan. The majority of these minors are between 15 and 17, but some are much younger, the group claims.
Since French authorities tightened border controls with Italy back in 2015, it has been hard for asylum seekers to enter the country. Hundreds of them are forced to "sleep rough under a [motorway] flyover" with no access to drinkable water, shelter or heating on the French-Italian border.
Children are often victims of abuse by a French police force that doesn't recognize them as asylum seekers and don't allow them to have an interpreter or a translator.
"French police officers are not upholding international standards. They taunt children and mistreat them…. Some children have had the soles of their shoes cut off before being sent back to Italy," Chiara Romagno, Oxfam's OpenEurope project leader in Ventimiglia said.
Michael, a 15-year-old from Darfur shared details of his encounter with French police while he attempted to cross the border: "The police pushed us off the train; they shoved us and yelled at us; then they pushed us in a van in the railway station car park." He was given a refusal of entry document and was put on a train back to Italy without any explanation.
Children, as well as adults, sometimes are briefly detained by French police without any access to food, blankets or any information on what grounds they were stopped, according to the humanitarian organization. The detention is not accompanied by any official statement or documents.
"Policemen yell at them, laugh at them, push them and tell them 'you will never cross here'. Some children have their mobile phones seized and the SIM card removed. They lose all their data and phonebook. They cannot even call their parents afterwards," Daniela Zitarosa, from Italian humanitarian agency Intersos, told Oxfam.
Women are facing even more risks, according to the report. Some of the younger girls came to the camp pregnant or with small kids that were conceived during their journey. Some women have told social workers their pregnancy resulted from rape.
The report comes amid a heated row between France and Italy, after Rome turned away a ship with 629 migrants from a Mediterranean crossing earlier in June. Italy has been forced to receive over 700,000 migrants since 2013 and has been deeply affected by the migration influx. Newly-appointed Prime Minister Conte insists that, in dealing with the issue, his country has been feeling "left alone" by the European Union, since some EU countries preferred to resort to "egotistical closures" of their borders.
Think your friends would be interested? Share this story!
You can share this story on social media: