EU relations won't come at expense of Russian ties, says Armenian PM (VIDEO)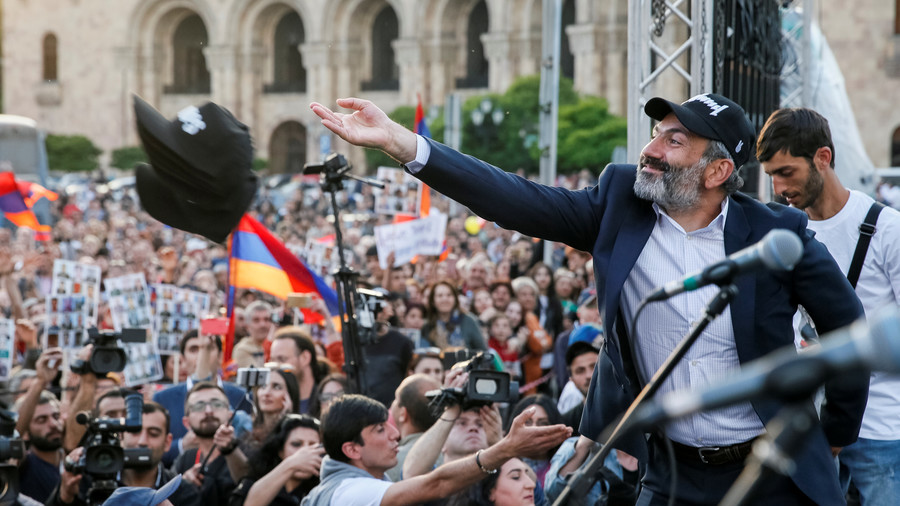 Those who claim that anti-Russian political forces have come to power in Armenia are wrong, newly-elected Armenian PM Nikol Pashinyan told RT, adding that relations with the West won't come at the expense of Moscow-Yerevan ties.
There are "forces who want to paint" street protests in the Armenian capital and Pashinyan coming to power "in a different light," the man who was sworn-in as prime minister in May told RT's Ilya Petrenko in an exclusive interview. "They want to make it look like anti-Russian political forces have come to power in Armenia," he said.
The prime minister dismissed all such claims, saying "the people who made the revolution happen, had no problem with Armenia's foreign policy" and that it was "a purely internal process." He stressed: "Those who said the political changes in Armenia will lead to problems in Armenian-Russian relations were wrong."
READ MORE: Armenian protesters drive truck full of snow into capital, start snowball fight (PHOTOS, VIDEO)
According to the minister, Russian-Armenian ties have "no dark corners" and Moscow and Yerevan "discuss everything very openly." He noted that Russian President Vladimir Putin "is very comfortable with this kind of communication."
Armenia is open for relations with the EU and the US as well as other countries – but not at the expense of Russian ties, Pashinyan stressed. "We won't adhere to a policy that implies developing relations with one international partner at the expense of relations with other partners."
The 43-year-old charismatic politician seized his chance by rallying public rage against his predecessor, Serzh Sargsyan, who previously served as Armenia's president and prime minister. Mostly peaceful protests resulted in Sargsyan stepping down and Pashinyan elected prime minister.
Watch Nikol Pashinyan's full interview with RT below:
Think your friends would be interested? Share this story!
You can share this story on social media: