Leaked picture of Australian soldiers flying Nazi swastika in Afghanistan sparks scandal (PHOTO)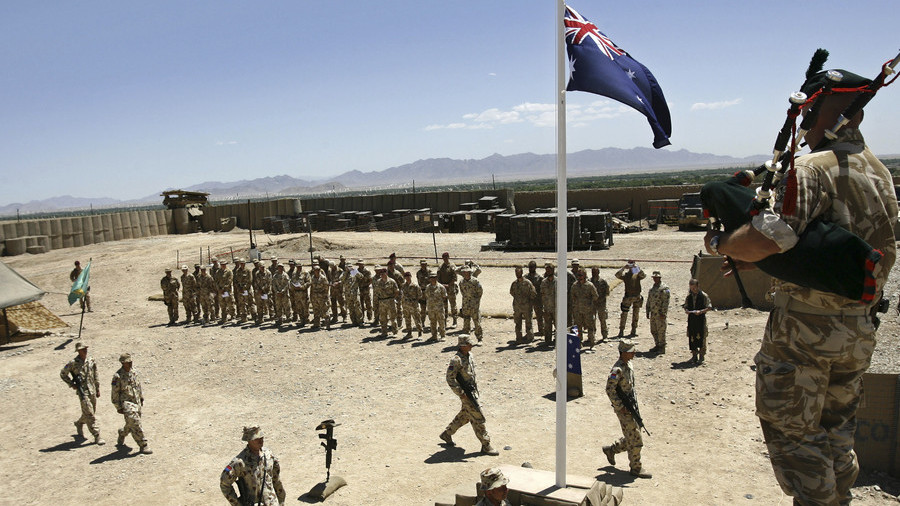 A photo of a Nazi flag on an Australian military vehicle in Afghanistan has been condemned by the country's PM and Jewish community, while its Defense Ministry says the soldiers responsible for the stunt have been "disciplined."
Australian soldiers were caught flying the Nazi swastika flag from their vehicle while conducting a mission in Afghanistan as part of a NATO-force deployment back in 2007, according to ABC, which obtained an exclusive photo of the incident.
It is believed that that the picture was just one of many photographs that were reportedly being circulated among military personnel. The news outlet also saw a second picture of the military vehicle flying a swastika. Furthermore, two separate defense sources revealed the identity of the Aussie soldier who took the flag with him on overseas duty. The person's name was not shared with the public.
One of the defense officials told the channel that the Nazi 'parade' lasted for a "prolonged period" but was just a "twisted joke," rather than an expression of neo-Nazism. The country's Prime Minister Malcolm Turnbull, however, failed to agree with this viewpoint, calling the display "completely and utterly unacceptable."
"It was reported [to officials] in 2007, that incident, and the flag obviously was removed and the personnel involved were disciplined," he told reporters. "But the incident, it was wrong... it was absolutely wrong, and their commanders took action at the time."
Australia's defense department noted that, following the incident, the red swastika flag was destroyed, while those who witnessed the display received counseling.
"Abhorrent" and "unacceptable" - @VCDF_Australia condemns the flying of a Nazi flag by Australian troops in Afghanistan in 2007. However it's still not clear what, if any, disciplinary action was taken at the time. pic.twitter.com/Ne7v9upvAW

— Andrew Greene (@AndrewBGreene) June 14, 2018
"Defense and the ADF reject as abhorrent everything this flag represents. Neither the flag nor its use are in line with Defense values," a Defense Ministry spokesman said in a statement. "The commander took immediate action to have the offensive flag taken down."
The leaked picture was also condemned by the chairman of the Anti-Defamation Commission, Dvir Abramovich, as a "vile display" of bigotry. "The flying of the Nazi flag, the most evil symbol in the history of mankind, by our soldiers is a slap in the face to the Diggers who fought valiantly and died to defeat Hitler," he told the Sydney Morning Herald.
Aussie special ops 'disregarded humanity', committed 'horrendous' acts in Afghanistan – reports
Earlier this month, a secret defense report published by Fairfax Media revealed that elite Australian troops allegedly committed war crimes in by engaging in "unsanctioned and illegal application of violence on operations" with "a disregard for human dignity."
Think your friends would be interested? Share this story!
You can share this story on social media: