'Rip up old playbook' & probe IDF actions in Gaza for war crimes – Human Rights Watch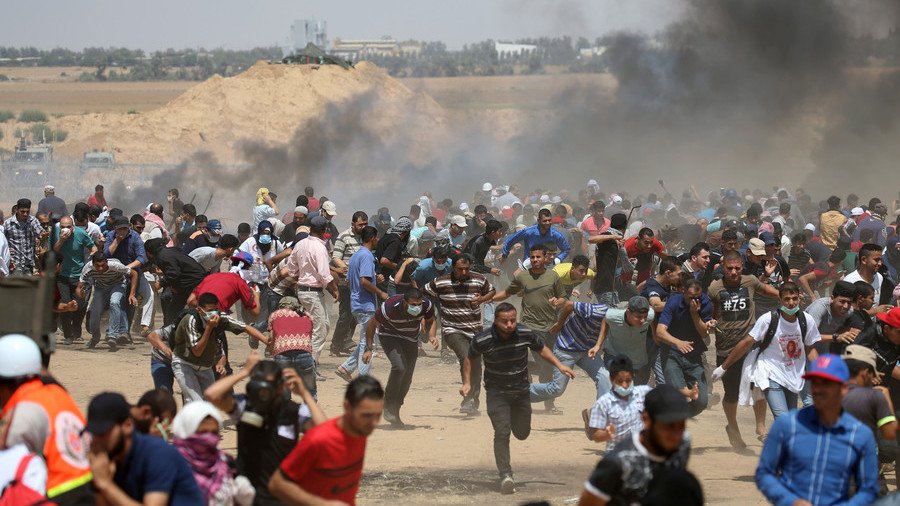 Human Rights Watch believes injuries and deaths of Palestinian protesters in the Gaza Strip, caused by Israeli soldiers' use of lethal force, may amount to war crimes and the officials responsible should face trial and sanctions.
The IDF's actions "highlight the need for the International Criminal Court to open a formal investigation into the situation in Palestine," the New-York-based global human rights watchdog said in a statement on Wednesday.
HRW's call came shortly before the UN General Assembly adopted a nonbinding resolution that condemns Israel's use of excessive force and calls for measures to protect Palestinians in Gaza.
"The international community needs to rip up the old playbook, where Israel conducts investigations that mainly whitewash the conduct of its troops and the US blocks international accountability with its Security Council veto, and instead impose real costs for such blatant disregard for Palestinian lives," said Sarah Leah Whitson, the NGO's Middle East director. Human Rights Watch also suggested that "third countries" place sanctions "against officials responsible for ongoing serious human rights violations" in Gaza.
Palestinians had been protesting near the Gaza border since spring, denouncing Israeli occupation and the blockade of the Gaza Strip, and also demanding the right to return to the areas they were expelled from in 1948, after Israel was established. According to HRW, since the demonstrations started on March 20, at least 118 people were killed and 3,895 wounded by the Israeli troops, who use live rounds to quell the protests.
Witnesses and victims of the crackdown told HRW that IDF soldiers often shot at people who "posed no imminent threat" to them, and some of the victims were 200-300 meters from the border fence. They claimed that the troops shot people not only in the legs but in the chest area and also in the back. The IDF was also accused of targeting journalists, medics, and volunteers who were evacuating the wounded.
READ MORE: Horrific moment IDF gas canister hits Palestinian in the face (GRAPHIC PICTURES)
Israel, however, vehemently denies accusations of human rights violations and blames Hamas militants for the bloodshed. "As part of Hamas's propaganda operation, hundreds of Gazans were injured last week and several dozen died, most of whom were Hamas operatives," the IDF spokesperson Brigadier General Ronen Manelis said back in May. Tel Aviv continues to insist that Hamas is to blame for instigating and orchestrating the unrest, while Israel is within its full rights to protect its borders, using all means necessary.
Like this story? Share it with a friend!
You can share this story on social media: