'We are with you': Netanyahu offers to help Iranians overcome water crisis in apparent PR stunt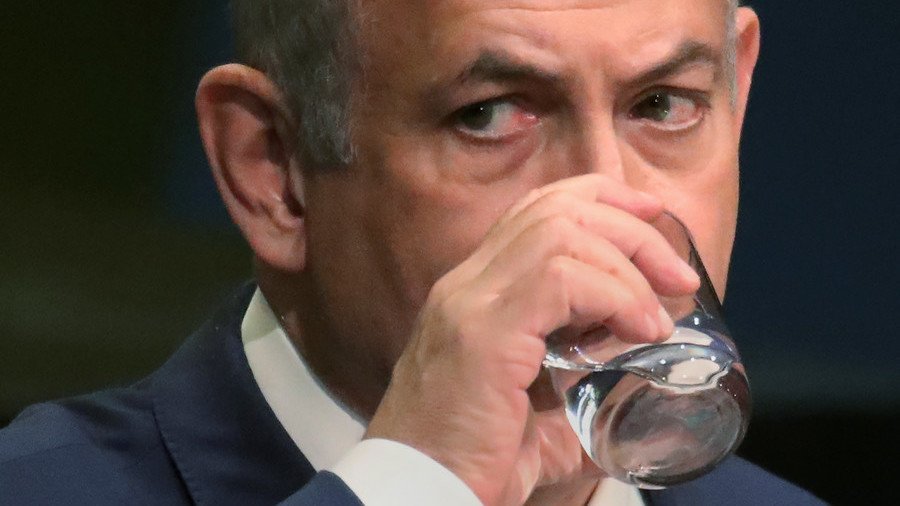 Israeli Prime Minister Benjamin Netanyahu has suddenly vowed to help the Iranian people combat drought by creating a website in Farsi on Tel Aviv's know-how. It did not stop him from verbally attacking Tehran once again, though.
In a video address published on his official YouTube channel, Netanyahu announced that Israel has created a special website in Farsi dedicated to projects related to water resources management, water conservation and other issues such as irrigation for the Iranians to learn from it.
Israel's prime minister openly boasted that his country developed "cutting-edge technologies" in the field, and it "recycles nearly 90 percent of its waste water." Known for his taste for theatrical gestures, Netanyahu pointedly took his time to fill a glass of water and drink it in a display aimed at showing that his country faces no shortage of water.
The Israeli leader also went to great lengths to word-paint the alleged plight of the Iranian people, who, according to him, suffer from at least "some levels of drought," and thus allegedly desperately need Israel's help.
"Millions of Iranian children are suffering from mismanagement and incompetence," he claimed. Netanyahu also cited Iran's Vice President and Head of Department of Environment Isa Kalantari, who indeed warned, as early as in 2015, that up to 50 million of Iranians could be forced to leave their homes due to environmental problems.
He then went on to promote Israel's unexpected humanitarian initiative by saying that it would help to "save countless Iranian lives." However, even this seemingly conciliatory gesture could not go without the usual anti-Iranian rhetoric, which is usually so eagerly employed by Israeli officials. Netanyahu actually started his speech by attacking the Iranian government right away, branding it "a cruel and tyrannical regime" that denies its own people vital water. Israel, according to Netanyahu, "stands with people of Iran," who "should not face such a cruel regime alone."
The promoted website is actually a section at the official site of the Israeli Foreign Ministry, which indeed features some articles on water management and agriculture in Farsi. Notably, the webpage eagerly encourages Iranians to read about the new Israeli water management and follow the news about it on Telegram – an instant messaging service that was actually banned in Iran as early as a month ago. Iranian authorities argued that the app has become a "safe haven" for terrorists.
The video, featuring a "generous" offer to Iranians and claims about Israel's vast experience in overcoming water crises, was published on YouTube on Sunday. On the same day, Netanyahu actually told his own government that Israel does face some water shortage problems. "Today, the Cabinet will approve an urgent plan to deal with the drought problem," Netanyahu said during a weekly cabinet meeting, Arutz Sheva, an Israeli media outlet, reported.
The sudden 'humanitarian initiative' seems to be even more controversial at a time when Israel clearly pays no attention to the water shortage in the Gaza Strip, for example. Numerous media reports, including the ones published by Israeli media, warned that nearly all the drinking water sources in Gaza are contaminated, and the water crisis is worsening.
The United Nations Children's Fund (UNICEF) warned as early as in 2017 that "Gaza children face acute water and sanitation crisis." However, all these facts never prompted Tel Aviv to address this issue in the area, which is actually de-facto sill blocked by Israel.
You can share this story on social media: