Royal Wedding from new angle: #Romanovs100 shares rare historical photo of Queen Victoria & family
Published time: 8 Jun, 2018 11:31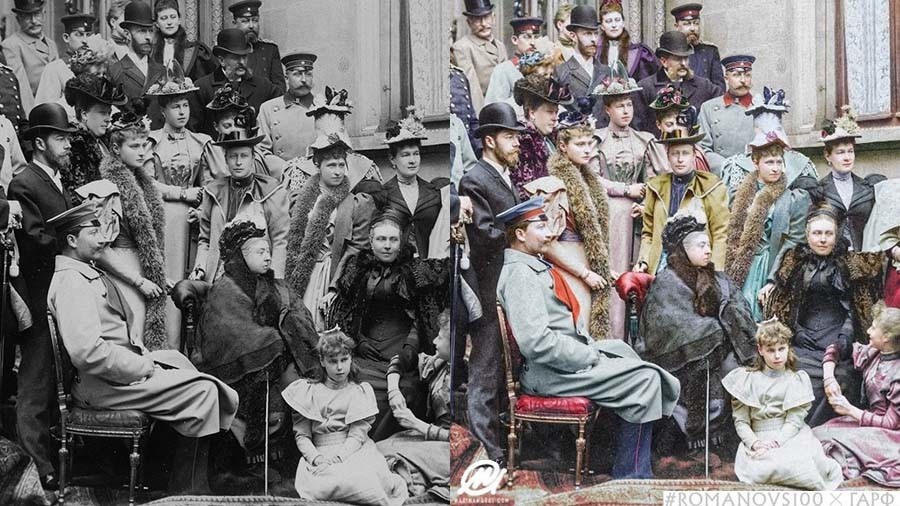 As part of RT's history photo puzzle, #Romanovs100 released a different angle of a famous photo of Queen Victoria and her descendants. Artist Marina Amaral colorized the photo, breathing new life into an otherwise familiar image.
This photo illustrates just how tight-knit the European royal relations were: Nicholas, the future Emperor of Russia, is standing beside his wife-to-be, Alix of Hesse, Queen Victoria's favorite granddaughter. Beneath the couple, Nicholas's cousin, Wilhelm II is seated. Years after this photo was taken, he will be on the other side of war, leading Germany against the Russian Empire in WWI.
Nicholas met Victoria for the first time in 1893 at the wedding of his nephew George, Duke of York, and Princess Mary of Teck. The Queen described him in her journal as "charming and wonderfully like Georgie. He always speaks English, and almost without a fault, having had an English tutor, a Mr. Heath, who is still with him. He is very simple and unaffected." Indeed, Nicholas II and his cousin George V (George, Duke of York's father) looked so much alike, they could be twins.
This photo was taken a day after Nicholas and Alix announced their engagement, at Coburg on April 21, 1894. The family assembled there for the wedding of Princess Victoria Melita of Saxe-Coburg and Gotha and Ernest Louis, Grand Duke of Hesse (Alix's brother).
Two years later, Nicholas and Alexandra would return to visit Queen Victoria with their firstborn, Olga. Nicholas II is seen wearing the frockcoat uniform of the Blues and Royals in this photo, the same uniform Prince Harry would wear for his wedding in 2018.
In May, #Romanovs100 launched a colorization contest that Marina Amaral will judge by picking a winner in late June. Anyone can participate by following the simple rules outlined HERE. Some amazing works have already been submitted from around the world, but there is still time and space for more. Become part of the #Romanovs100 photo puzzle and join the contest on Facebook, Twitter, or Instagram.