Microsoft sinks almost 1,000 servers to boost internet speeds
Published time: 7 Jun, 2018 00:28
Edited time: 7 Jun, 2018 07:33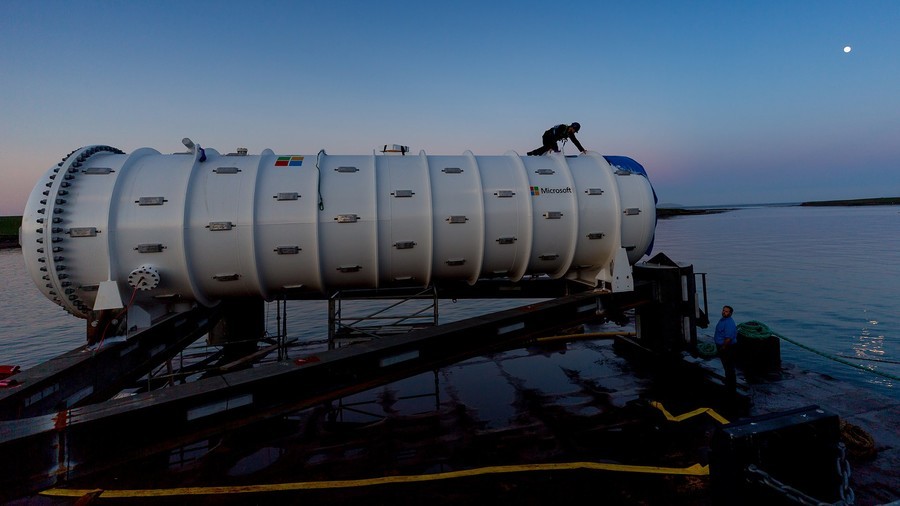 Microsoft has deployed a submarine-like data center off the coast of Orkney in Scotland, housing hundreds of servers under the sea with the aim of boosting internet speeds and improving environmental sustainability.
While the dangerous mix of electronics and water may set off instant alarm bells, Microsoft insists it is not a lethal combination and says that the marine industry has been keeping equipment dry in the ocean long before computers even existed.
The tech giant sunk a 40-foot vessel, which contains 12 racks of computers and 864 servers, off the coast of Orkney, a group of islands located off Scotland.
According to Microsoft, the underwater Northern Isles data center will be able to store and process data for up to five years without maintenance. The experiment is part of Project Natick, which has been studying the concept for a number of years.
"More than half of the world's population lives within about 120 miles of the coast. By putting data centers in bodies of water near coastal cities, data would have a short distance to travel to reach coastal communities, leading to fast and smooth web surfing, video streaming and game playing as well as authentic experiences for AI-driven technologies," the company explained in a statement.
Dunking the data center in Orkney waters will limit the cost of cooling the machines - an enormous expense for many data center operators, and it will also allow the center to benefit from the islands' renewable energy, according to Microsoft.
A cable from the Orkney Islands grid sends electricity to the data center, which requires just under a quarter of a megawatt of power when operating at full capacity.
Over the next year, all aspects of the data center, including power consumption and internal humidity levels, will be monitored by the team. If the project proves to be a success, Microsoft hopes to sink more data centers near coastal cities - with the ultimate goal of getting the centers operational within 90 days of the decision to deploy.
Last year, Microsoft, along with Google and Amazon, raced to buy data centers to deal with their booming cloud businesses. A record $20 billion was spent on properties for the purpose - more than the previous three years combined.
Like this story? Share it with a friend!