Large fire ravages Chernobyl Exclusion Zone, tons of water poured in by planes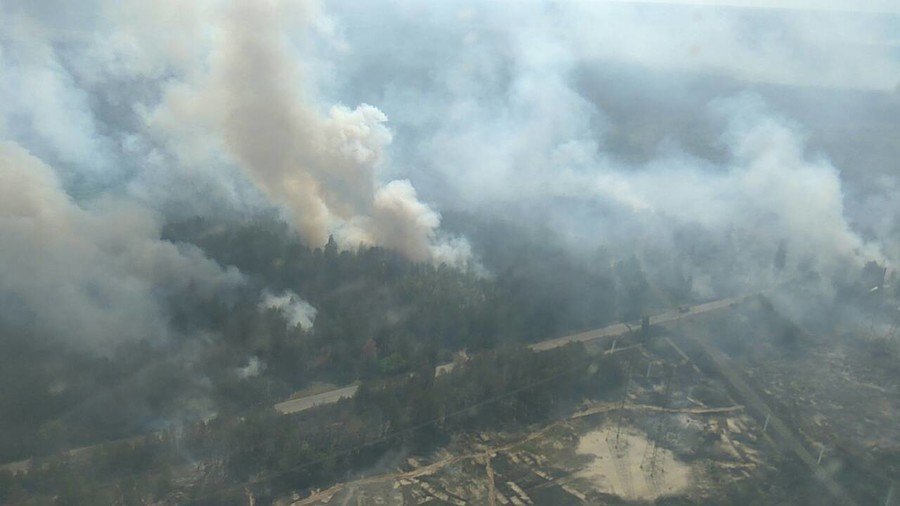 A major wildfire is sweeping through the Chernobyl nuclear disaster area. The authorities have deployed dozens of fire trucks as firefighting aircraft bombard the radioactive exclusion zone with massive amounts of water.
The fire inside the Chernobyl 'dead zone,' which is now part of Ukraine, started on Tuesday morning, when dry grass was ignited, local emergency services said in a statement. The wildfire subsequently reached a forest, where up to 10 hectares (24 acres) are now in flames.
Some 29 vehicles and 126 personnel have been dispatched at the scene, with several planes and helicopters dropping water from the sky on the area engulfed by wildfire.
The zone saw another large blaze last year, which scorched 25 hectares (60 acres) of land.
READ MORE: Chernobyl disaster site repurposed for solar energy (PHOTOS)
Chernobyl became the site of one of the biggest nuclear disasters in history, when a local power reactor blew up in 1986, leading to massive contamination of the surrounding area. The severely damaged reactor was sealed off by a protective 'sarcophagus' of steel and concrete, while the nearby town of Pripyat had its 50,000 population evacuated. Today, Pripayt is a ghost town. The so-called 'exclusion zone' was imposed around the site of the disaster, banning visitors.
Current winds are not blowing residual pollution towards the country's capital Kiev, local authorities said, noting that radiation levels remain normal.
Think your friends would be interested? Share this story!
You can share this story on social media: