EU army looms? Merkel backs Macron's European Defense Force initiative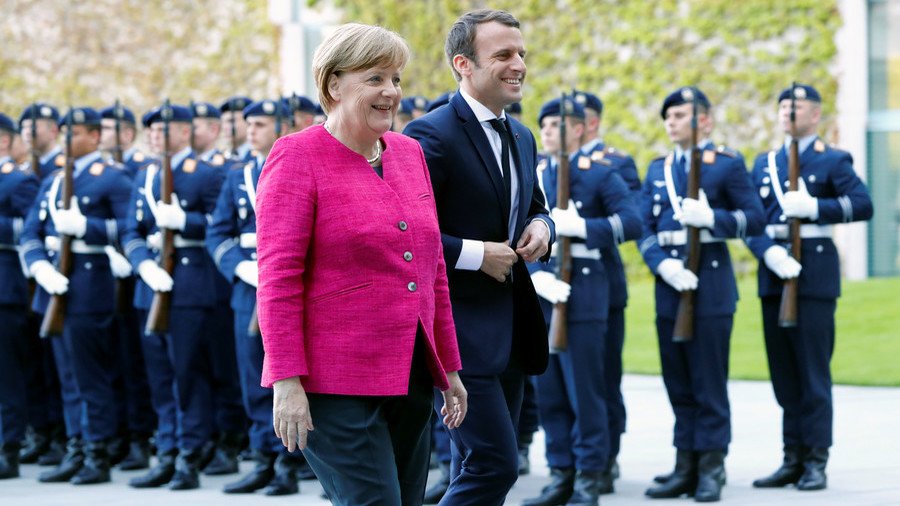 Chancellor Angela Merkel has supported "in principle" the idea of a joint European Defense Force proposed by French President Emmanuel Macron. Germany's opposition had been the main stumbling block for the much-discussed project.
"I am in favor of President Macron's proposal for an intervention initiative," the German chancellor told Frankfurter Allgemeine newspaper on Sunday.
"However, such an intervention force with a common military-strategic culture must fit into the structure of defense cooperation," she said.
Merkel said that the German military, the Bundeswehr, "must, in principle, be part of such an initiative," but added that her statement "doesn't mean that we are to be involved in every mission."
During his key speech at Sorbonne University last September, Macron proposed a European military "intervention force" that would protect the continent by taking action in hotspots around the globe. It's a crucial element of the French leader's defense reform, which is aimed at integrating European defense capacities. But the talks on implementing the European Defense Force have so far been complicated due to Berlin's cautions approach to the initiative.
"European defense cooperation is very important. Of the 180 weapon systems that currently co-exist in Europe, we must move to a situation like the United States, which has only about 30 weapons systems," Merkel said.
Following Donald Trump's withdrawal from the Iranian nuclear deal, which the EU considers crucial, and a tariff war unleashed by Washington against Brussels, the European leaders began questioning the ability and desire of the US to be the guarantor of security for Europe.
READ MORE: Time to 'take fate into its own hands': Europe can't rely on US protection anymore, says Merkel
"It's no longer the case that the United States will simply just protect us," Merkel said in early May. "Rather, Europe needs to take its fate into its own hands. That's the task for the future."
The German chancellor was fully backed by Macron, who urged the European Union "not to be weak." Last week, Austrian chancellor also called on Europe to "remain united" because "the US has [recently] become more and more unreliable for us."
READ MORE: Trump vows to 'deal with' Germany & other NATO allies 'not contributing enough'
Trump also promised to "deal with" Germany as a country that "has not contributed what it should be contributing" to the US-led NATO military block. The statement came after German Defense Minister Ursula von der Leyen said last month that Berlin will only increase its military spending by 1.5 percent of gross domestic product by 2025 instead of the 2 percent desired by Washington.
Think your friends would be interested? Share this story!
You can share this story on social media: