Shocking images show whale died with over 80 trash bags in its stomach (GRAPHIC PHOTOS)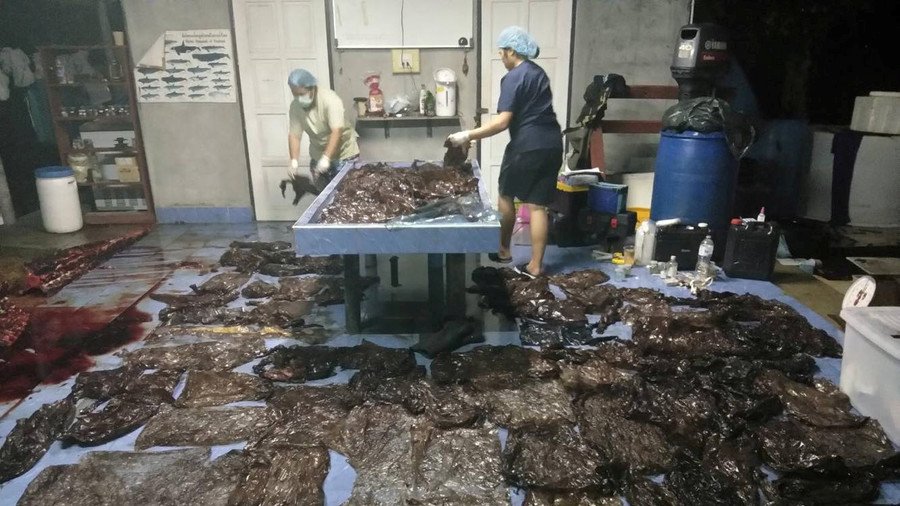 A whale in Thailand died after ingesting over 80 plastic bags. An autopsy on the pilot whale, which was found in a canal in the southern province of Songkhla, revealed that its gut was packed to capacity with trash bags.
READ MORE: 'Armageddon in the making': Sea creatures plagued by human plastic pollution (DISTURBING VIDEOS)
A team of veterinarians worked for five days to free the animal from the canal. Ultimately, their efforts proved unsuccessful as the country's Marine and Coastal Resources Department reported that the whale spit out five plastic bags just prior to its death on Friday. A post-mortem found that its stomach was clogged with another 80 bags and other items with a total weight of 8kg.
Thon Thamrongnawasawat, a marine biologist and lecturer at Kasetsart University, said the bags made it difficult for the whale to perform its normal digestive functions. "If you have 80 plastic bags in your stomach, you die," he told Sky News.
Some readers may find the following images distressing.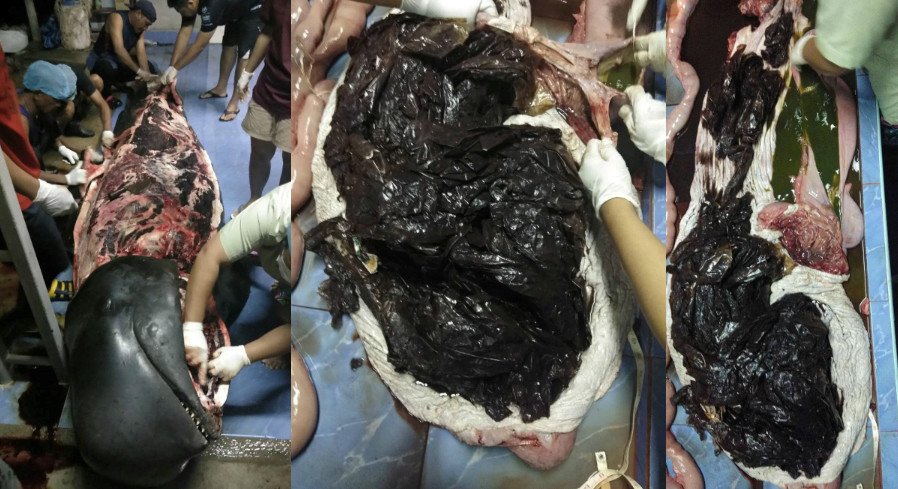 Thamrongnawasawat added that at least 300 marine animals, including pilot whales, sea turtles and dolphins, die in Thai waters each year due to plastic. "It's a huge problem. We use a lot of plastic," he said.
Marine and Coastal Department chief Jatuporn Buruspat told Reuters that his department will use this incident to campaign for stricter controls on the use of plastic in the country. "We will use the whale case and invite all sectors to show their intentions on how to reduce the use of plastic in Thailand," he said.
READ MORE: 30 plastic bags, 1 dead whale: Shocking toll of vast ocean pollution laid bare
The case has shocked the world and draws further attention to the problem of plastic waste in the world's oceans. According to the non-profit Plastic Oceans, 300 million tons of plastic is produced every year, half of which is for single use. More than eight million tons of plastic is dumped into the oceans annually.
Think your friends would be interested? Share this story!
You can share this story on social media: