Chinese general warns Mattis against making 'irresponsible claims & interfering in internal affairs'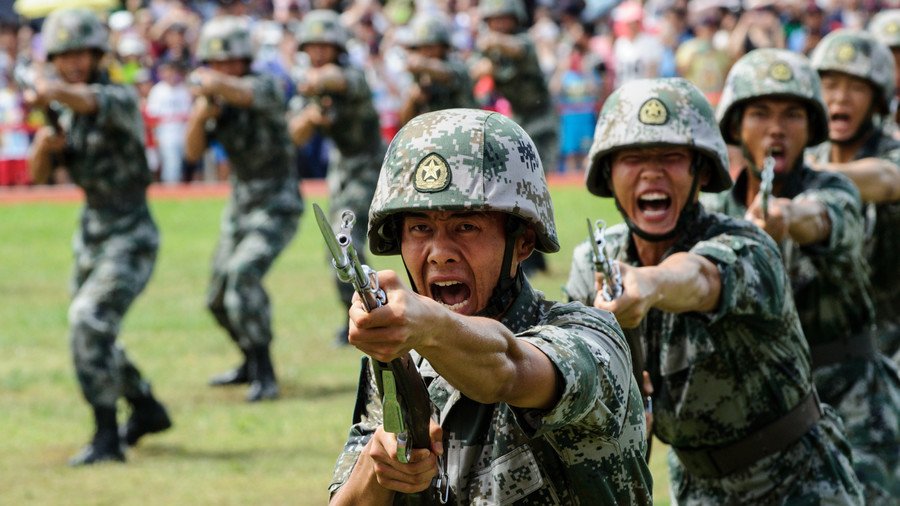 A Chinese general has defended South China Sea deployments and policy, slamming "irresponsible" comments and interference in internal affairs by US Defense Secretary James Mattis, who accused Beijing of intimidating its neighbors.
"Any irresponsible comments from other countries cannot be accepted," Lieutenant General He Lei said at the Shangri-La Dialogue in Singapore, after Mattis promised to "vigorously" compete and confront Beijing's growing influence in the disputed waters of the South China Sea.
"We see any other country that tries to make noise about this as interfering in our internal affairs," General He added.
The US has, for years, agitated China by claiming a "freedom of navigation," sailing its warships and conducting flights near the disputed areas of the South China Sea. To reinforce its territorial claims, Beijing has been building artificial islands and deploying military infrastructure on the Paracels, as well as on the Spratly Islands.
"China's policy in the South China Sea stands in stark contrast to the openness our strategy promises, it calls into question China's broader goals," the US Defense Secretary claimed on Friday, accusing Beijing of "intimidation and coercion."
General He, who is deputy president at the People's Liberation Army's Academy of Military Science, made it clear that all the islands in question are "part of China's territories," noting that China has historical records proving its claim.
"It is undeniable that... there are soldiers that are stationed there and there are weapons that are deployed there. It is a symbol of China's sovereignty," the officer said. "The weapons have been deployed for national defense."
The general also slammed Washington's abuse of the freedom of navigation principle, noting that it is the "true root of the militarization of the South China Sea."
"It is those that are shouting about 'the militarization of the South China Sea' who are militarizing the South China Sea," He added. US military patrols and fly-bys "jeopardize China's security and challenges China's sovereignty," the general explained.
The Chinese officer also slammed Washington's pursuit of closer ties with Taiwan, which Beijing views as the violation of the One-China Policy. After Trump signed the Taiwan Travel Act (HR 535) to extend ties between Washington and Taipei "at all levels," Mattis, in his speech in Singapore, noted that the US commitment is to "provide articles and services needed for its self-defense." Taipei has expressed interest in American M1A2 Abrams tanks, to serve as the island's last line of defense against a hypothetical intervention by Beijing.
New 'hottest flashpoint'? Taiwan mulls buying US Abrams tanks to counter China
Beijing will never allow a third country "separate any piece of Chinese territory from China at any time in any form," General He said. "The Chinese People's Liberation Army has the determination, confidence and ability to safeguard China's sovereignty, security, unity and development interest."
Noting that the country's armed forces are able and ready to defend all of its territorial claims, disputed or not, including those in the East China Sea, He expressed hope that all of the governments and militaries involved "act in a manner that preserves regional and global peace."
If you like this story, share it with a friend!
You can share this story on social media: