US in preliminary talks with Berlin to place THAAD missile system in Germany – report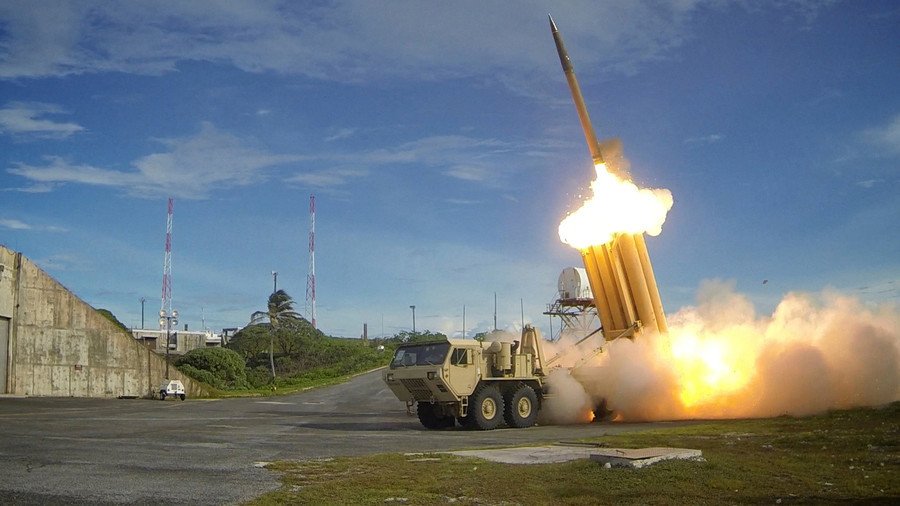 The US military has held preliminary talks with Germany to place its THAAD missile defense system in the country in order to boost European security, sources have told Reuters.
The deployment of the Terminal High Altitude Area Defense (THAAD) to Ramstein Air Base, which hosts the US Air Force in Europe headquarters and NATO's Allied Air Command, has been discussed, an unnamed US military official told the agency. "It would be a further political message to the Europeans that we're serious about protecting our allies," the official said.
Berlin was open to the move, which, it said, will help better protect civilian populations, another source added.
Reuters also cited a senior German military official, who underlined the need for more radars across the European continent, to better track and monitor potential threats.
Germany will be formally notified if the US goes ahead with THAAD deployment, despite Washington not needing permission from Berlin to move the system, in accordance with existing agreements, the sources said.
The reports emerged amid tensions between the US and EU caused by the tariff standoff and Donald Trump's decision to withdraw from the Iran nuclear deal. In May, German Chancellor Angela Merkel even said "it's no longer the case that the US will simply just protect us," urging Europe "to take its fate into its own hands."
However, there has been no official confirmation of the talks or of the US intention to place the system in Germany. Pentagon spokesman Eric Pahon said that "there are currently no plans to station THAAD systems in Germany. We do not discuss potential future military planning, as we would not want to signal our intent to potential adversaries."
READ MORE: Time to 'take fate into its own hands': Europe can't rely on US protection anymore, says Merkel
The German foreign ministry, which oversees foreign troops stationed in the country, also declined to confirm that it was sending any signals to Washington about a possible deployment of THAAD.
THAAD is an anti-ballistic missile defense system designed to intercept short-, medium-, and intermediate-range ballistic missiles, and has been produced by Lockheed Martin since 2008.
The US has been insisting that it's placing anti-missile shield elements in Europe, including Poland and Romania, in order to counter Iran's ballistic missile developments. But Moscow views the American actions as a direct threat to its security, arguing that, together with the ongoing NATO buildup near Russian borders, it adds to tensions in the region and, in fact, makes Europe less safe.
A few months ago, Russia's deputy defense minister, Alexander Fomin, said American AMD elements in Europe were part of Washington's global plan to encircle Russia with hundreds of missiles. "Anti-missile defense sites have been already set up on US soil in California and Alaska," Fomin said, adding that Japan has also approved the deployment of US Aegis Ashore systems, while South Korea has THAAD already installed.
Last week, head of US European Command, General Curtis Scaparrotti, said that he needed more troops and hardware for him to do "a better job of deterring Russia and set us in a better place to understand how Russia operates." Scaparrotti also said that "the initial assessment is that Germany would very likely not have a problem with a THAAD deployment."
But many in Germany are unhappy about a large US military presence in the country. Earlier this week, hundreds the US military vehicles, who were on their way to Poland as part of the US' biggest troop movement in the country since Cold War, were met by protestors with banners reading "Ami, go home!" and "No to World War III."
In 2017, thousands protested outside the Ramstein Air Base over its involvement in the Pentagon's drone operations. A similar action is expected to take place again in late June, with organizer Reiner Braun telling the Stars and Stripes website that he expects around 5,000 demonstrators to completely block access to the American base.
Think your friends would be interested? Share this story!
You can share this story on social media: