Arctic stronghold: Might of Russia's Northern Fleet shown in anniversary video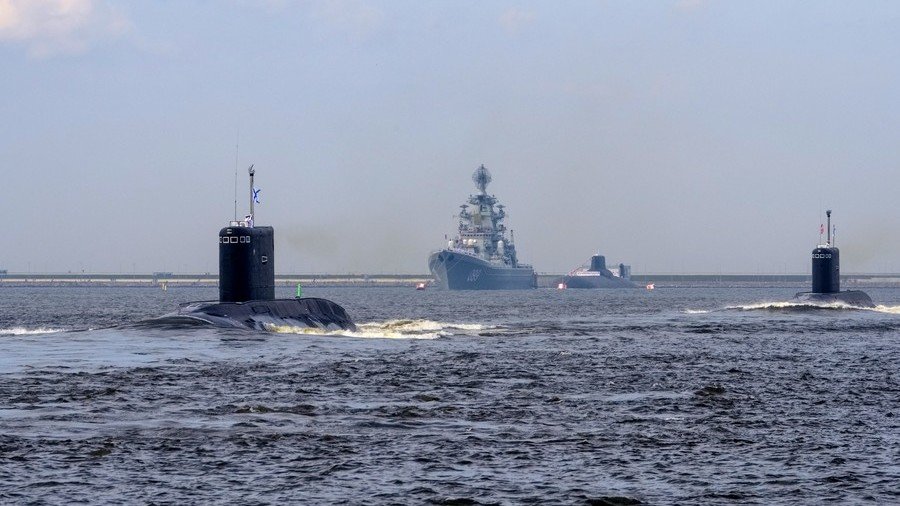 The Northern Fleet, which is arguably the most powerful Russian naval force, is celebrating 285 years of operations. Its anniversary video shows state-of-the-art vessels and unique installations in the Russian Arctic region.
Established back in 1733, the Northern Fleet comprises some of Russia's most remarkable military hardware, with 41 submarines, 37 surface vessels and ground troops making it a "cross-branch strategic force", as the Russian Defense Ministry puts it in a Twitter post. Its anniversary video shows various military exercises staged by the Northern Fleet forces, including submarines firing cruise and ballistic missiles, Tu-95 strategic bombers flying training sorties and military divers holding underwater firing drills.
1 июня исполняется 285 лет со Дня образования Краснознаменного Северного флота — межвидового стратегического объединения Вооруженных Сил Российской Федерации, защищающего национальные интересы России как в Арктике, так и в других районах Мирового океана pic.twitter.com/Ct788XAMzr

— Минобороны России (@mod_russia) May 31, 2018
The flagship of the fleet is a nuclear-powered battlecruiser the 'Pyotr Velikiy,' one of the biggest nuclear-propelled ships in the world. The 'Admiral Kuznetsov,' Russia's only serving aircraft carrier, which took part in the fight against Islamic State (IS, formerly ISIS/ISIL) terrorists in Syria in 2016, is also part of the Northern Fleet.
The naval force also has some of Russia's most advanced nuclear-powered multipurpose submarines equipped with cruise and ballistic missiles. Two state-of-the-art submarines – a Yasen-M class vessel the Severodvinsk, carrying as many as 32 Onyx and Kalibr supersonic cruise missiles, and a Borei-class submarine the Yury Dolgorukiy, equipped with 16 Bulava nuclear ballistic missiles – are already in service in the fleet, while another Yasen-M class submarine, the Kazan, is currently undergoing sea trials.
The strategic force, which is particularly tasked with "defending Russia's national interests in the Arctic," also controls some unique military bases within the Polar circle. Of particular interest is Russia's northernmost military base, called Arctic Shamrock.
The unique base is the world's only permanent infrastructure facility built in the area located 80 degrees of latitude north of the Equator. The autonomous complex, which occupies an area of 14,000 square meters, allows up to 150 people to live and work there for as long as 18 months without any external support.
The Russian infrastructure in the Polar region is "unmatched" by any other country, the country's Defense Minister Sergey Shoigu said, in December 2017.
Like this story? Share it with a friend!
You can share this story on social media: