Great March of Return: Palestinians gather for 10th week of protests (VIDEO)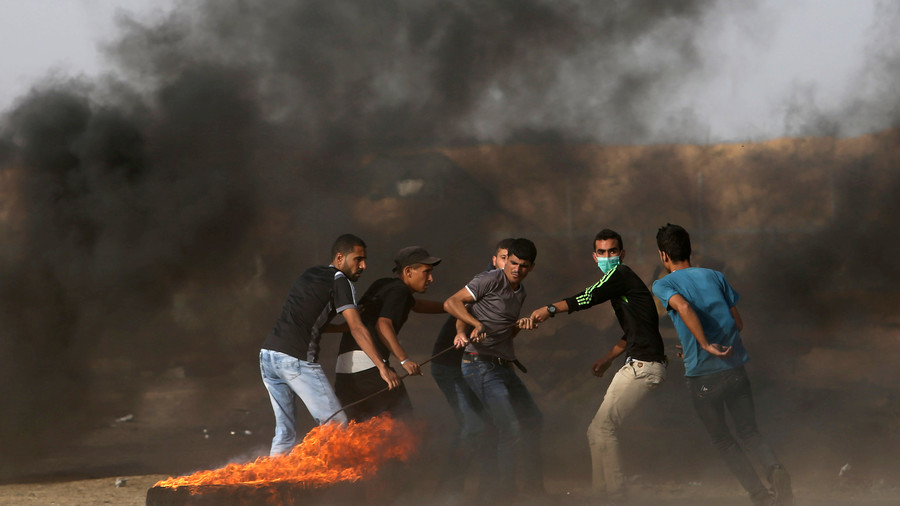 Thousands of Palestinians are expected to turn out for the 10th Friday of the Great March of Return demonstrations. The protests have seen heavy casualties – since March 30 Israeli troops have killed more than 110 people.
On Friday, the International Committee of the Red Cross said it was sending two teams of war surgeons to Gaza to treat Palestinian casualties. Scores of Palestinians have been killed and a further 13,000 wounded by Israeli fire over the past month alone.
Recent months have seen a major escalation in Gaza with the area seeing its most severe outbreak of violence since the war of 2014. The clashes peaked on May 14 when at least 61 Palestinians were killed by Israeli forces as people demonstrated against the US decision to move its embassy to Jerusalem.
Guislain Defurne from the International Committee of the Red Cross in Gaza said the enormous number of casualties put extreme pressure on Gaza's health system, causing it to collapse.
"It was impossible to keep taking care of the patients. Since then we have observed a decrease in the level of violence and we hope that this will continue because the hospital simply cannot deal with a bigger influx of violence," he told RT.
If we see on the following Friday the same amount of wounded arriving in the hospital as we saw on May 14, we would simply have hundreds of patients bleeding to death in the parking lot.
Israel's Supreme Court recently upheld the military's use of live ammunition against protesters in Gaza. Rejecting a petition from Israeli and Palestinian rights groups to ban the use of snipers and live fire, the court ruled that lethal force is justified as the protests are part of an "armed conflict" between Israel and Hamas.
The Israel Defense Force's use of live fire has been heavily criticised by the UN High Commissioner for Human Rights.
READ MORE: 'Caged in toxic slum': UN rights chief slams Israel over deadly Gaza protests
Earlier this week dozens of mortar shells were fired towards Israel from the Gaza strip. A spokesperson for Israel's military said one shell hit a kindergarten building but most were intercepted by its air defense systems. The IDF said it carried out airstrikes on military targets in response.
Like this story? Share it with a friend!
You can share this story on social media: