Soviet-era passenger plane blows three tires during landing (VIDEO)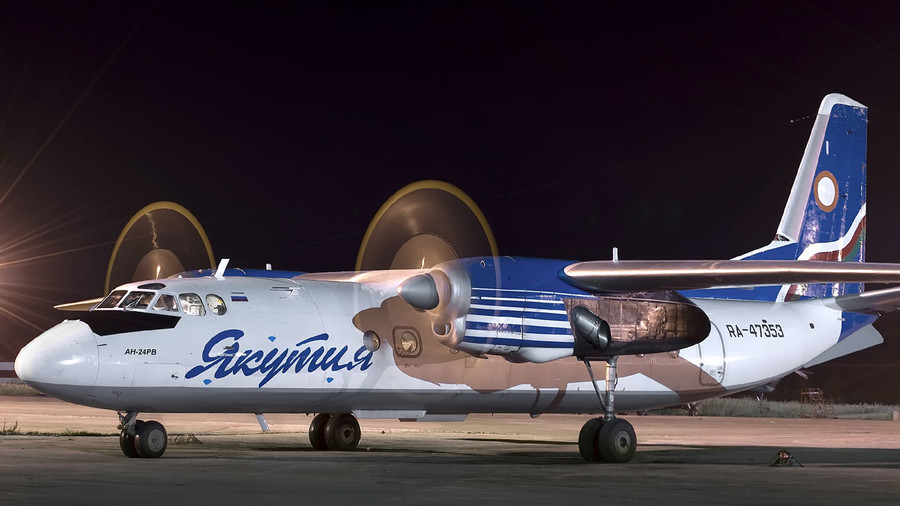 An ancient Antonov-24 passenger plane destroyed three of its four tires on the wing landing gear after touching down at Yakutsk airport in eastern Siberia. The incident was captured by the passengers on board.
Operator Yakutia says that none of the 28 passengers and 4 crew were injured during the landing, which concluded a scheduled flight from Lensk on Wednesday evening.An investigation has been opened into the incident.
This follows another incident in March, when the same model of plane owned by Yakutia completing an identical route had to make an emergency landing when one of the two engines shut down. It is not clear if the same plane was involved both times.
READ MORE: Tons of gold fall from sky in Russian cargo plane blunder
Antonov-24 turboprop planes were first manufactured in the 1950s. More than 1,300 were produced but the last came into service in 1979. The vast majority of the aircraft have been retired. Some, however, remain in the service of smaller regional airlines, which Russia has attempted to regulate more tightly in recent years, following a series of high-profile safety failures.It is not clear what the cause of the accident was this time, but mass tire blowouts on jets – a rare but not unknown occurrence – often happen as a result of under-inflation.