122 pregnant whales among the 300+ killed by Japan for 'science'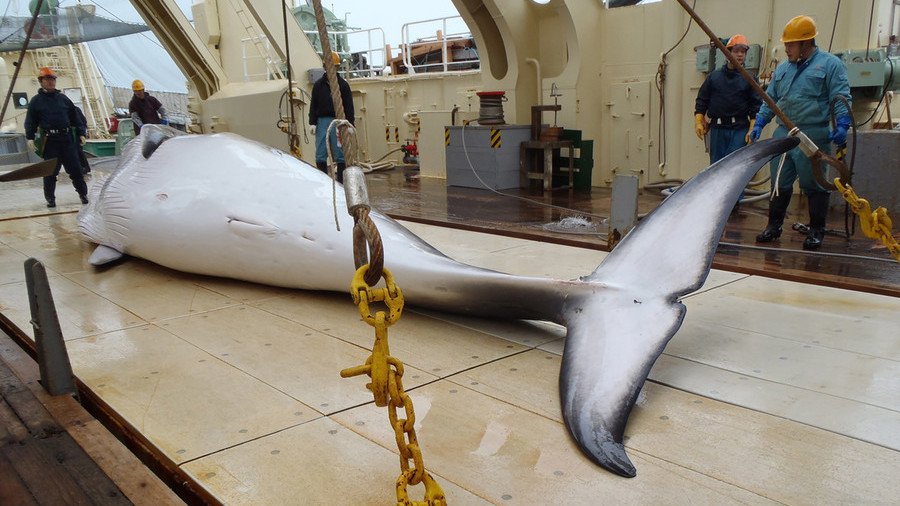 Over 300 whales were killed by the Japanese during annual "research", supposedly for scientific purposes. Animal rights activists, however, argue the research can be non-lethal, calling Japan's actions a hunt in disguise.
The whales were slaughtered by Japanese researchers during the third New Scientific Whale Research Program in the Antarctic Ocean (NEWREP-A) mission during the 2017-18 season, according to newly published meeting papers of the International Whaling Commission's (IWC).
Japanese researchers targeted 344 whales, and "sampled" 333 of them "using harpoons with a 30g penthrite grenade." Eleven creatures managed to evade the harpoons and escape the "sampling" into the "high density sea ice," according to the document.
While the description of the "sampling" process is riddled with technicalities, it basically describes the common process of whaling with an explosive harpoon. The projectile is launched from a harpoon cannon, which penetrates the creature's hide and explodes. Whalers usually target the head of a whale, inflicting heavy brain damage and knocking the giant mammal out, or instantly killing it.
The "sampling" of the whales, conducted by the Japanese scientists, included stomach contents analysis "to estimate prey composition and consumption," measuring their age by extracting their earwax plugs, and evaluating sexual maturity of the creatures. Body parts and organs of the whales were weighed and their skulls measured with a giant caliper.
122 whales, killed during the "research" turned out to be pregnant, according to the IWC papers. Such figure constitutes "a shocking statistic and sad indictment on the cruelty of Japan's whale hunt," Alexia Wellbelove, senior program manager for the Humane Society International (HSI) told The Sydney Morning Herald.
"It is further demonstration, if needed, of the truly gruesome and unnecessary nature of whaling operations, especially when non-lethal surveys have been shown to be sufficient for scientific needs," Wellbelove stated.
While it was never stated where the remains of that many creatures killed for "scientific" purposes went, whale meat remains an important dish of Japanese cuisine and its consumption is considered to be a part of the country's culture. Japan, however, is a signatory to the IWC's moratorium on commercial hunting, and conducts its whaling activities under "scientific" quotas since late 1980s.
Tokyo has been repeatedly challenged by animal rights activists, who argued that the "scientific programs" were designed only to conceal industrial-scale hunting. Back in 2014, the UN International Court of Justice (ICJ) ordered Tokyo to cease its whaling activities since they did not meet any conventional scientific standards. As a result, the 2014-15 hunt was cancelled, only to reemerge a year later under the guise of another scientific research program. Tokyo argues the new program has genuine scientific goals and adheres to all the standards.
Like this story? Share it with a friend!
You can share this story on social media: