Kalashnikov-designed motorcycle to join Putin's motorcade in 2019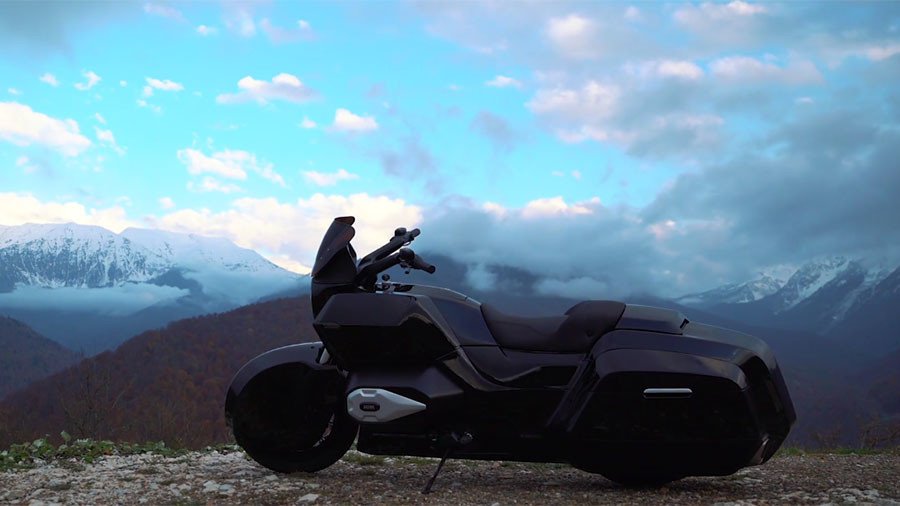 A convoy motorcycle designed by the Kalashnikov company is set to join President Putin's official motorcade by 2019 after completing its trials, according to the head of Rostec – the company in charge of manufacturing the vehicle.
"We have shown the prototype, and our current goal is to create a truly innovative product, in accordance with all safety regulations," Sergei Chemezov told reporters on the sidelines of the St. Petersburg International Economic Forum on Saturday. The company is also considering sending the motorcycle for mass production, the CEO said earlier.
READ MORE: Putin's Aurus Senat vs Trump's Beast: How do cars #1 fare? (PHOTO, VIDEO)
While the state corporation Rostec is overseeing the project, its chief designer is the famous Kalashnikov Concern, one of the world's leading weapons manufacturers, best known for AK-47 and AK-74 assault rifles.
The all-black concept bike, labeled 'Izh,' completed a test drive on the Formula One racetrack in the Russian town of Sochi last year.
It can travel up to 250km/h (155mph), and weighs 510kg (1,124 pounds). While meeting President Putin earlier this month, Chemezov noted that it is going to be "a beautiful motorcycle," capable of competing with Western bikes.
The bike is going to be a part of the 'Kortezh' ('Motorcade') project line, which also includes luxurious bulletproof limos manufactured for Russian political elite. The 'Kortezh' limo was recently used by Putin during his swearing-in ceremony. According to the Rostec CEO, the project line may also include mini-vans, SUVs and sedans in the future.
Like this story? Share it with a friend!
You can share this story on social media: