'Korea summit & Iran deal pullouts undermine US credibility as honest broker'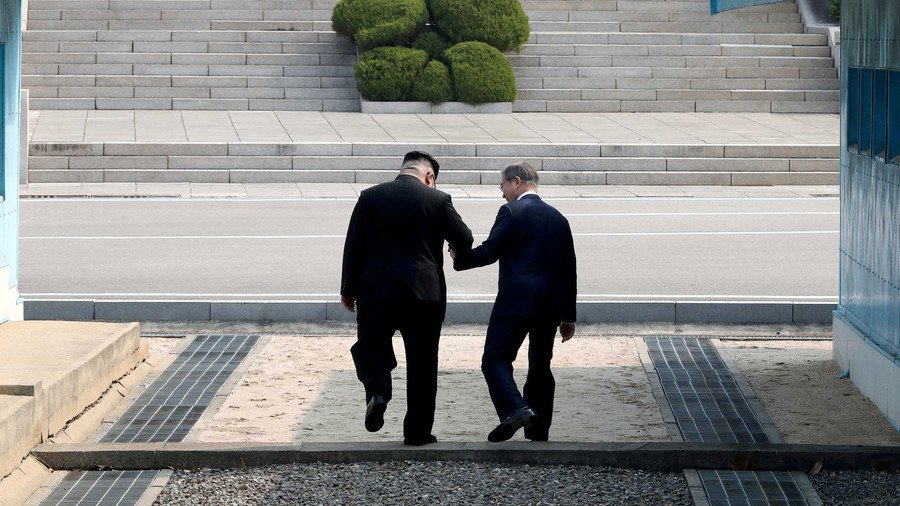 The US, with its pattern of sanctions and threats, clearly prefers hard power to international diplomacy, while its withdrawal from the Iran deal and North Korea summit shows that it doesn't stick to commitments, analysts told RT.
Just hours after North Korea destroyed its nuclear test site, Donald Trump announced he is canceling his summit with Kim Jong-un which was scheduled to take place in Singapore on June 12.
In a letter to the North Korean leader, Trump said he felt it was "inappropriate, at this time, to have this long-planned meeting" after "tremendous anger and open hostility" displayed in Pyongyang's most recent statement. He also warned North Korea that the US military "which is by far the most powerful anywhere in the world…is ready if necessary."
Political commentator and journalist John Wight told RT that Trump's decision to pull out of the summit should not come as a surprise to anyone who has been following the trajectory of US administration "with any degree of awareness."
"After all we've had a pattern of sanctions and threats: sanctions and threats leveled against Iran recently, sanctions and threats against Russia… China…Venezuela and sanctions, threats and air strikes against Syria," he explained.
In his view, "this is clearly an administration that believes that US hard power rather than international diplomacy or indeed international law should be the arbiter of international affairs."
Wight added that he didn't believe the Trump administration was serious about the Singapore summit from the very beginning.
Trump's decision "shows the divisions within the US policy," according to Sreeram Chaulia, Professor & Dean of Jindal School of International Affairs.
"We have a lot of hawks in right-wingers led by people like John Bolton, Mike Pence…They didn't want these talks to happen. They want regime change," he told RT.
Asked what more do North Koreans need to do to get Trump to the table even after Pyongyang destroyed its nuclear test site, Chaulia pointed out that "it is a give and take: it has to be based on quid pro quo."
He noted that the North Koreans have given confidence building measures: "they released those three American citizens, they have closed their nuclear test site. They have been also saying that they will keep a moratorium on missiles and nuclear tests."
"But Trump was trying to get a unilateral one-sided victory without giving anything in return… If Americans really want stability on the Korean peninsula, they have to give some to get some," he added.
Former US diplomat Jim Jatras agrees that "it is pretty clear that most of the people around President Trump did not want the summit to take place." In his view, "they were horrified at the thought that Trump would sit across the table eye-to-eye from Kim Jong-un and agree to something that they may not have approved of."
Jatras also claimed that there is a lot of relief in Washington that the idea of summit has collapsed. "They want a Libyan solution to North Korea. When North Korea gives up its weapons but then is vulnerable to the regime change. And I think that is the underlined reality on the American side that led to the collapse of this talk," he concluded.
Donald Trump called the cancellation of the US-North Korea Summit "a tremendous setback for North Korea and indeed a setback for the world."
Charles Shoebridge, security analyst and former UK counter terrorism intelligence officer, said: "It may not be the end of it, but the blame for cancelling the meeting should surely go to the person who has actually cancelled it."
"Trump and the US are saying that the condition of, not the talks, but the success for talks is that North Korea should disarm in a nuclear sense. And it really does seem that is very unlikely to happen. And a reason for that is the record of the US behavior and its allies' behavior in the wake of other countries disarming," Shoebridge cited Iraq and Libya as examples.
The US' unilateral pulling out from the Iran deal also sends a message, the analyst said. "Remember, Iran has actually complied with all of the requirements that were made of it in 2015 nuclear deal. It is America that reneged on this agreement. And that is sending a clear message…"
He suspects that the US in the long term is doing "a great deal even more damage to its credibility as an honest broker anywhere in the world because it is simply doesn't seem to be capable of sticking to the commitments or at least the spirit of the commitments that it is asking others to undertake."
Think your friends would be interested? Share this story!
You can share this story on social media: