Man 'gravely injured' by 'tear gas grenade' amid police standoff with eco-activists in France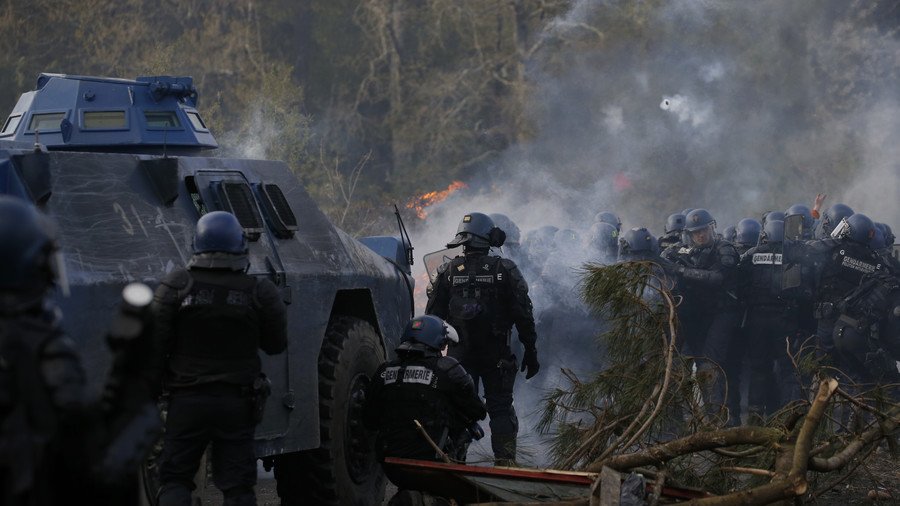 A man has been "gravely injured" after picking up a tear gas grenade as police clashed with eco-activists squatting on a site of an abandoned airport in western France, officials and media say. The victim reportedly lost his hand.
Tensions flared up as police were mobilized in Notre-Dame-des-Landes commune, 20km from the city of Nantes on Tuesday. The activists attacked officers who responded with force, according to French media reports.
The standoff resulted in one man being seriously injured, local prosecutor Sylvie Canovas confirmed.
"The man whose hand was gravely injured while picking up a grenade is now being transported to the hospital," she said.
Interior Minister Gerard Collomb said the man picked up the grenade to throw it back at police. It exploded right in his hand, Le Figaro reports. The activists also confirmed that the man's hand was injured and that he was later taken away by ambulance.
Environmental activists have protested against the construction of the airport in Notre-Dame-des-Landes since 2008. Supporters of the project argued it would boost economic development in Pays-de-la-Loire, while opponents argued it was too environmentally unfriendly. The project of the airport was cancelled in January 2018.
The activists call the 1,650-hectare site their 'Zone a Defendre' (Zone to be Defended). The occupants of the anarchist commune demand the right to stay after creating a "self-governing utopia."
April saw repeated unrest in the area, often resulting in clashes between police and squatters. The protesters once set up barricades made of tires and electricity poles in an effort to keep law enforcement at bay. Clashes also resumed at the abandoned airport site in mid-May.
Think your friends would be interested? Share this story!
You can share this story on social media: