Israel blocks Turkey from transporting wounded Palestinians from Gaza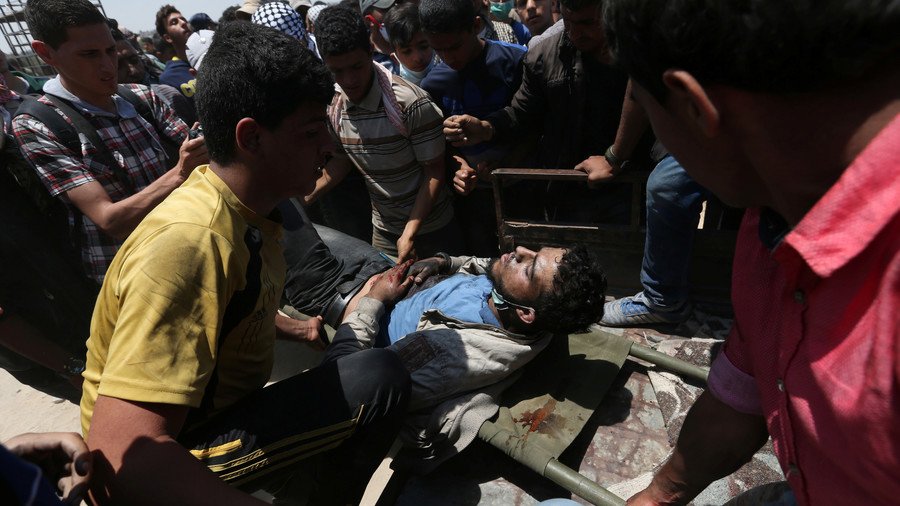 Turkey's attempts to evacuate Palestinians wounded in Gaza for medical treatment have been blocked by Israel, the government in Ankara said.
Israel is blocking Turkey from "standing beside our oppressed brothers," Turkey's deputy prime minister, Recep Akdag, said, as cited by Anadolu Agency. Turkey asked to send a plane to Tel Aviv's Ben Gurion airport, but the request was rejected due to political and security concerns, according to Israel's Channel 10.
"We received a request from international health authorities to approve a Turkish flight to evacuate those being treated in Gaza to Turkey," Deputy Health Minister Yaakov Litzman told Channel 10.
"After discussion with security agencies and Israeli experts, we decided to allow treatment in Israel and/or to send medical supplies to Gaza. But we did not permit the Turkish flight."
Tensions have increased between the two nations since Turkey expelled Israel's ambassador from Ankara and withdrew its ambassador from Tel Aviv, in response to Israel's killing of at least 60 Palestinians at the Great Return March protests in Gaza on Monday. More than 100 people have been killed during the six-week protests.
The Rafah border crossing has been opened for six days this week to allow injured Palestinians in Gaza to receive treatment in Egypt. Minister of Health Ahmed Emad Eddine said he had been "instructed by the political leadership" to allow Palestinians to be treated in Egyptian hospitals, Egypt Today reports.
Last month, Israel rejected a request to transfer two wounded Palestinians from Gaza to the West Bank because they had taken part in the demonstrations. The High Court ruled Israel had to allow the patients to receive treatment, but at that stage both needed amputations.
"The situation in Gaza is devastating and the crisis is far from over," UN humanitarian coordinator Jamie McGoldrick said. "Medical teams in Gaza have exerted heroic efforts, working tirelessly and often at personal risk, to save lives. But stocks of medicines and supplies are being depleted, with few resources to replenish them. Our ability to reach affected families, including children, and provide assistance is extremely limited due to funding shortfalls."
Before Monday's protest, Doctors Without Borders (MSF) in Gaza said its medical facilities were "completely overwhelmed and will soon be unable to manage additional wounded," and warned the health system was "on the verge of collapse."
Like this story? Share it with a friend!
You can share this story on social media: