Putin drives Kamaz truck across newly-opened Crimean bridge (VIDEO)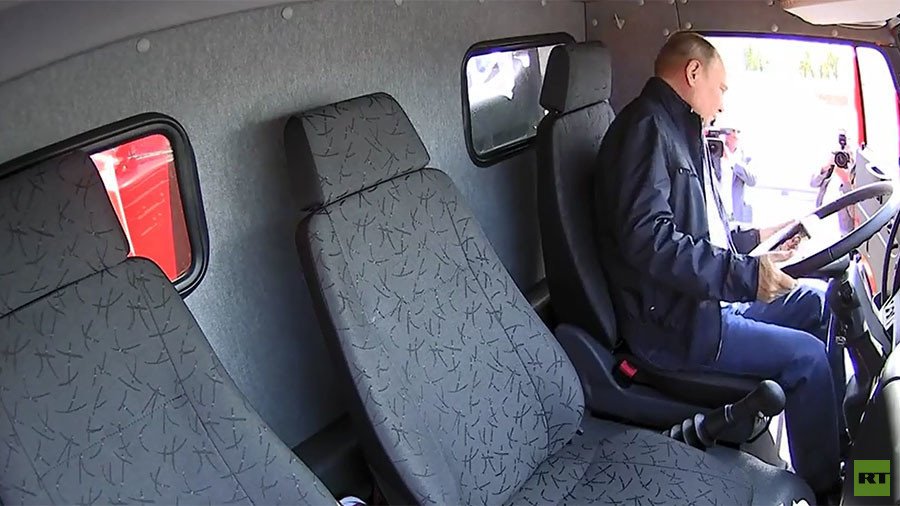 Russian President Vladimir Putin personally drove a Kamaz trip-truck, heading a column of construction vehicles, across the newly-opened bridge connecting mainland Russia with Crimean Peninsula.
The column of trucks, cranes and other heavy-duty vehicles carried construction workers who had been working on one of Russia's most ambitious infrastructure projects for the past several years.
The Russian president attended the symbolic opening ceremony on Tuesday, dressed in jeans and a windbreaker, instead of his usual business suit. After saying a thank-you to the heads of various construction crews, he hopped into the bright-orange truck and headed the column.
The row of vehicles contrasted sharply with Putin's regular motorcade – all sleek and black – where his guards and support staff usually travels. The presidential motorcade traveled some distance away on the other half of the four-lane bridge.
The opening of the bridge comes a day before general traffic will be allowed. For several more months, trucks will not be allowed through, giving extra time to check all the safety measures and engineering quality. The bridge was finished months ahead of the deadline, which had been set for the end of the year.
The bridge has two parts – one for motor vehicles and one for trains – with the latter scheduled to be finished next year.
Think your friends would be interested? Share this story!
You can share this story on social media: