IDF updates old anti-Semitic trope – now the Iranians are evil puppet masters?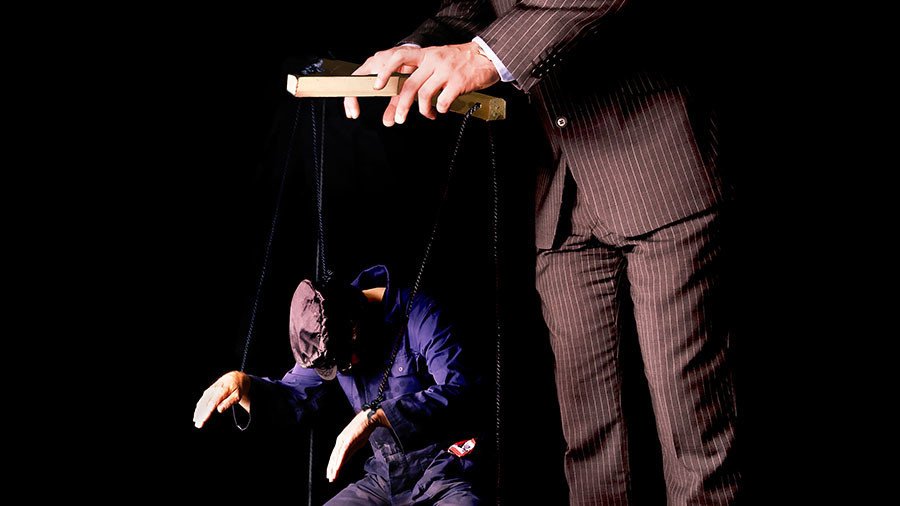 Using "puppet master" and "Jew" in the same sentence will likely land you on an Anti-Defamation League blacklist, but it seems to be okay when the Israeli military rolls out the tired trope against others – that is, against Iran.
The Israeli Defense Forces' (IDF) official Twitter account pulled back the veil on the Iranian global conspiracy on Thursday. It posted a poorly edited picture showing Iranian leader Ayatollah Khamenei pulling the strings of a Bashar Assad marionette, against the backdrop of a ruined city ravaged by explosions. One may already start to wonder what the message is, given that the photo actually shows Kobane, the northern Syrian city that was seized by Islamic State (IS, formerly ISIS) in 2014, and liberated by Kurdish fighters a year later. But most importantly, the MS Paint masterpiece is accompanied by the caption: "WHO REALLY CONTROLS YOUR LIFE?"
If the Jewish state's military actually meant that the sneaky Persians are secretly controlling people's lives, it would only be right to ask how they managed to come up with such an airtight world view. A quick internet search may reveal their initial inspiration:
As Wired wrote in a 2017 piece titled "The Internet Protocols of the Elders of Zion," the internet is an ideal outlet for "paranoid populists" to spread the "millennia-old smear campaign" of the "Jewish puppet master conspiracy theory."
The Twitterati were quick to spot the multi-layered irony of the IDF's tweet.
The IDF's attempt at memes comes as Israeli Defense Minister Avigdor Lieberman called on Syria to "throw out" the Iranian forces helping Damascus in the fight against Islamist militants.
"Throw the Iranians, Qassem Soleimani and the Quds forces out of your country! They are not acting in your interest, they are only hurting you. Their whole presence only brings problems and destruction," Lieberman said during a Friday visit to the occupied Golan Heights, the site of the alleged Iranian May 8 missile attack. He failed to mention that the Israeli strikes are actually responsible for some of the "problems and destruction" faced by Syria.
While the IDF seems to be deeply concerned that Tehran has usurped Syria's sovereignty, Syria's own president said this week that Iran, along with Russia, was one of the few nations that actually respected Syria's territorial integrity.
Like this story? Share it with a friend!
You can share this story on social media: