'She's not the world's schoolmarm': Top Palestinian official slams Haley's 'name-taking' at UN votes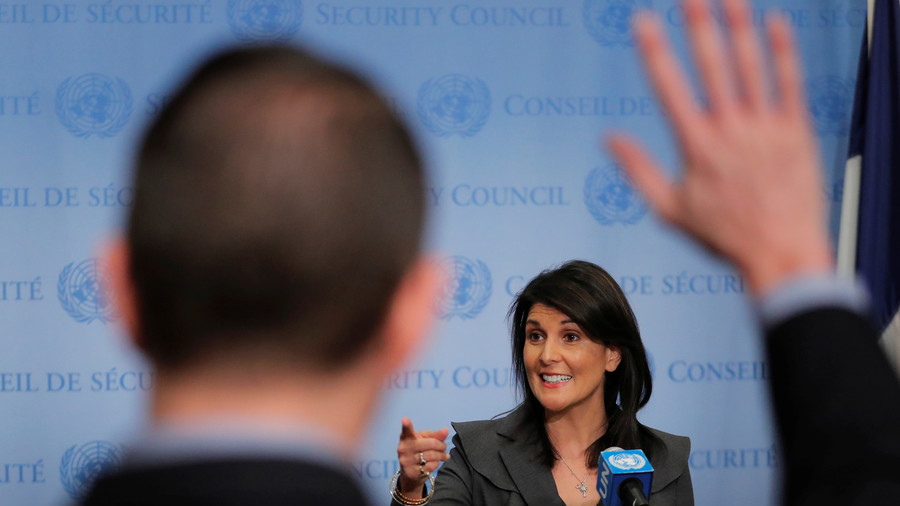 A top-tier Palestinian official has lambasted ambassador Nikki Haley's threat to "take names" of countries who do not support US proposals at the UN, saying no-one appointed the bellicose envoy "the schoolmarm of the world."
Hanan Ashrawi, a senior official at the Palestine Liberation Organization (PLO) and former Middle East advisor at various UN agencies, fired back at the US Ambassador Nikki Haley, who repeatedly pledged to "take names" of member states that voted in favor of a resolution calling for the reversal of the Trump administration's recognition of Jerusalem as Israel's capital.
"She threatened and she pressured and she used coercion and so on at the UN, particularly by taking down names," Ashravi told reporters at the UN on Thursday, as quoted by Reuters.
"I don't think people appointed her the schoolmarm of the world," the Palestinian official said.
In December last year, a resounding majority of United Nations members declared the recognition of Jerusalem as Israel's capital "null and void." The non-binding resolution was approved at a rare UN General Assembly (UNGA) emergency meeting called by Palestine, with 128 votes in favor and nine against. 35 countries abstained.
"At the UN we're always asked to do more and give more," Haley wrote on Twitter prior to the UNGA vote. "So, when we make a decision, at the will of the American people, about where to locate our embassy, we don't expect those we've helped to target us. On Thursday there'll be a vote criticizing our choice. The US will be taking names."
Earlier this week, the US ambassador suggested there was no connection between the spike in violence in Gaza and the relocation of American embassy to Jerusalem. "The United States deplores the loss of life, but there is a lot of violence in region. And the double standard is all too common in this chamber, and is working overtime today," Haley opined.
Shortly after the US embassy was officially commissioned in Jerusalem, massive protests unfolded in the blockaded Gaza Strip. The Israeli military and security forces again deployed live ammunition, killing at least 60 and injuring more than 2,700 protesters.
Haley, who was a former member of the South Carolina House of Representatives with no diplomatic background, gained notoriety for making other awkward statements and thinly-veiled threats. In early April, she took to talking about US-Russia ties, saying Moscow "will never be our friend." She said the US still works with Russia "when we need to, and we slap them when we need to."
Like this story? Share it with a friend!
You can share this story on social media: