US demanded N. Korea ship 'some' nukes & missiles abroad within 6 months – Asahi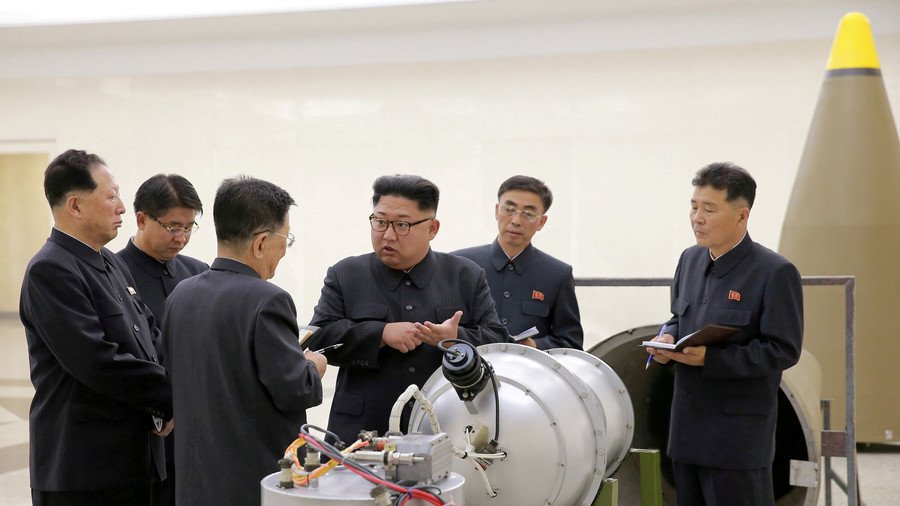 The US has demanded North Korea ship some of its nuclear warheads and intercontinental ballistic missiles out of the country within half a year, according to Japan's Asahi Shimbun newspaper, citing sources familiar with the talks.
Over the course of behind-the-scenes negotiations between the US and North Korea, the American side has told Pyongyang it expects it to get rid of some of its nuclear arsenal within six months, according to a report that emerged on Thursday.
The demand was apparently voiced by US Secretary of State Mike Pompeo during his meeting with North Korean leader Kim Jong-un on May 9. In exchange, Washington might remove Pyongyang from a list of state sponsors of terrorism, Asahi Shimbun reported. North Korea was put back on the list last year, allowing the US government to target it with additional sanctions.
READ MORE: 'We'll see what happens' says Trump as N. Korean summit put in limbo
The news comes just one day after North Korea abruptly called off a high-level intra-Korean meeting in protest over US military wargames with South Korea in the region. Pyongyang also warned that it may do the same with the highly-anticipated summit between US President Donald Trump and Kim Jong-un, scheduled for June 12 in Singapore.
Pyongyang made it clear that Washington's negotiating tactics are unacceptable, and it is not interested in talks that only envisage unilateral denuclearization without guarantees North Korea won't be left totally defenseless in case of aggression.
It became a major setback in the reconciliation process on the Korean Peninsula, the basis for which was laid during a landmark meeting between the leaders of the two Koreas, the North's Kim Jong-un and the South's Moon Jae-in.
The peace talks between Moon and Kim were praised by world leaders, including Trump, but did not deter Washington from carrying on with military exercises with its allies in the region. The two-week Max Thunder 18 air drills kicked off on Friday, with over 100 aircraft taking part. North Korea considers the drills a provocation and a show of aggression.
Like this story? Share it with a friend!
You can share this story on social media: