Kiev recalls consul from Germany over claims he hailed Nazis, denied Holocaust, received Hitler cake
Published time: 15 May, 2018 12:30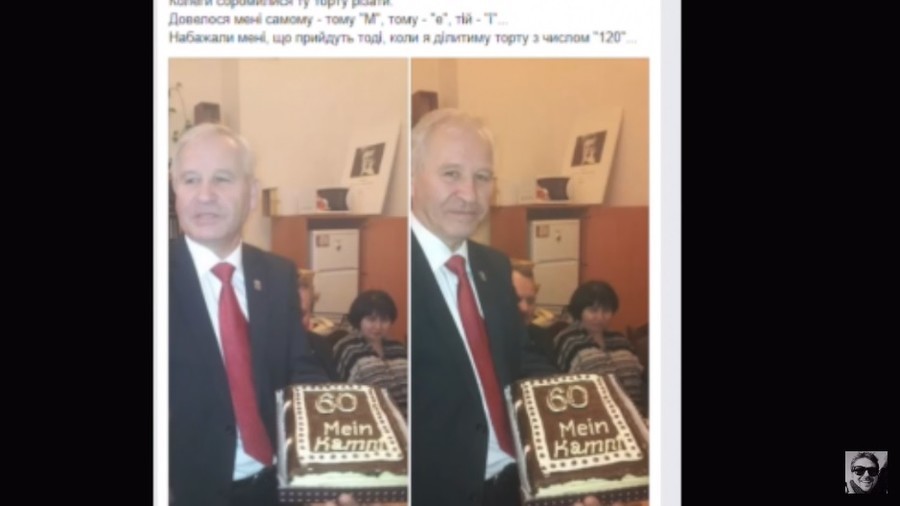 The Ukrainian Foreign Ministry has recalled its consul to Hamburg, Germany for disciplinary action after a popular vlogger accused him of being a Holocaust-denying Nazi sympathizer.
Vasil Marushchinets was recalled to Kiev for an investigation into his friends-only posts on Facebook. He allegedly hailed Nazi policies and denied that the regime slaughtered millions of people in death camps.
It is also alleged he called for violence against Jews, Romas and other ethnicities, argued for Ukraine to take land by force from other countries like Poland, Romania or Hungary and made other statements that hardly befit a diplomat working in Germany.
"If all the facts are confirmed – because what we saw may not be all of it – then certainly such people have no place in the foreign ministry," Ukrainian diplomat Pavlo Klimkin on Monday.
The content of the page was exposed on Saturday by Anatoly Shariy, a popular Ukrainian vlogger, journalist and political commentator living in the EU under political asylum after fleeing Ukraine in 2012.
In 2014 Shariy started a video blog and became one of the fiercest critics of the nation's current government, regularly exposing its flaws for his 1.4 million subscribers on YouTube. In a series of videos, Shariy showed what he said was Marushchinets' Facebook page, which was visible only to his friends. The Ukrainian Foreign Ministry didn't challenge the claim that the page belong to the diplomat.
Among the comments posted there and dating back to at least 2013 were statements such as "being a fascist is an honor" or "death to anti-fascists". Some posts claimed that the Holocaust was a hoax or that people of some ethnicities like Jews, Roma, Hungarians or Russians were second-rate humans that deserve at least a beating.
Some images posted on the page included a photo of Marushchinets receiving a cake shaped as a print edition of Hitler's Mein Kampf as a present for 60th birthday in 2016.
In the latest post the vlogger said he welcomed the decision to recall Marushchinets, but said he will keep pressuring Kiev through his contacts in Germany, Israel and other nations, until people in the Ukrainian diplomatic corps, who covered up his xenophobia and 'liked' his rabid posts on Facebook are disciplined too. These include his direct boss, the consular general in Hamburg, and several former and serving Ukrainian ambassadors.
The 2014 armed coup in Kiev was spearheaded by Ukrainian nationalist and neo-Nazi groups. The new government further capitalized on that force, enrolling many of them to boost its military and paramilitary troops. At the same time members of such groups were often given a leeway in actions as long as they served the government, their crimes were overlooked or not punished properly.
Kiev also embraced nationalist narratives in state policies, celebrating war criminals and Nazi collaborators as national heroes and reinventing Ukraine's history to look ancient and glorious. Consequently, the country currently experiences a rise of right-wing sentiments and xenophobia.
One of the latest examples was a speech by a right-wing group leader Tetiana Soykina in Odessa, who said "Ukraine will belong to Ukrainians – not the Yids." After an outrage she clarified that she considered Jews and "Yids" two different things.
Think your friends would be interested? Share this story!