1 Palestinian killed by Israeli fire in Nakba Day protests - Pal. health ministry (VIDEO)
Published time: 15 May, 2018 11:02
Edited time: 16 May, 2018 09:11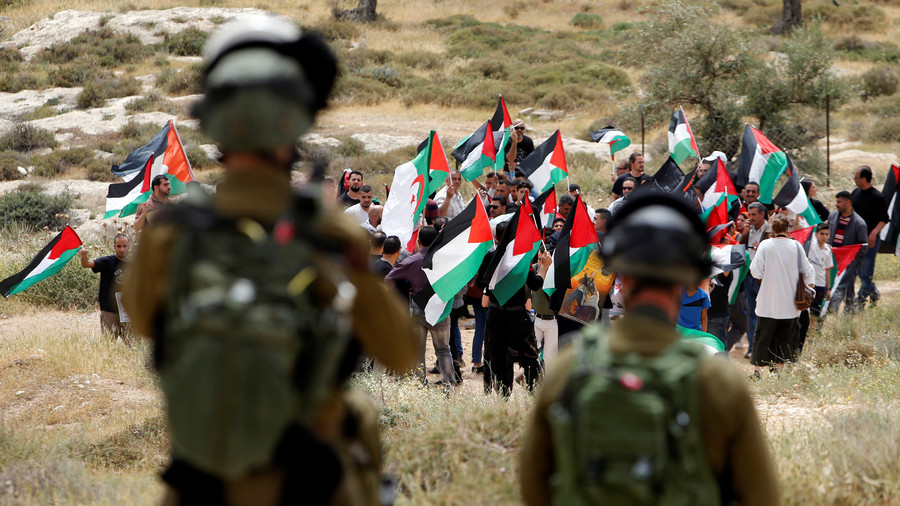 One Palestinian has been killed by Israeli forces, a spokesperson for the Palestinian health ministry has said, as thousands gather to commemorate the 70th anniversary of Nakba.
Monday marked the deadliest day of protests since Great March of Return demonstrations began on March 30, with 60 people including eight children killed by Israeli fire. An eight-month-old infant, who suffered gas inhalation, is among the dead.
Nakba Day, a term used by Palestinians to describe their forced exodus during the establishment of the State of Israel in 1948, is also celebrated by Israelis as Independence Day. This year's event is the culmination of seven-week long demonstrations.
The funerals of Monday's casualties are expected to take place in Gaza, Tuesday, while further demonstrations are expected along the Gaza border later. Palestinian Authority declared three days of mourning after Monday's "massacre."
Confrontations have already been reported in the West Bank, Tuesday, according to Haaretz. Two Palestinians were wounded by live fire in the city of Hebron and taken to hospital in a stable condition.
Think your friends would be interested? Share this story!