Gaza border crossing set ablaze as Palestinian protesters 'damage gas pipelines' – IDF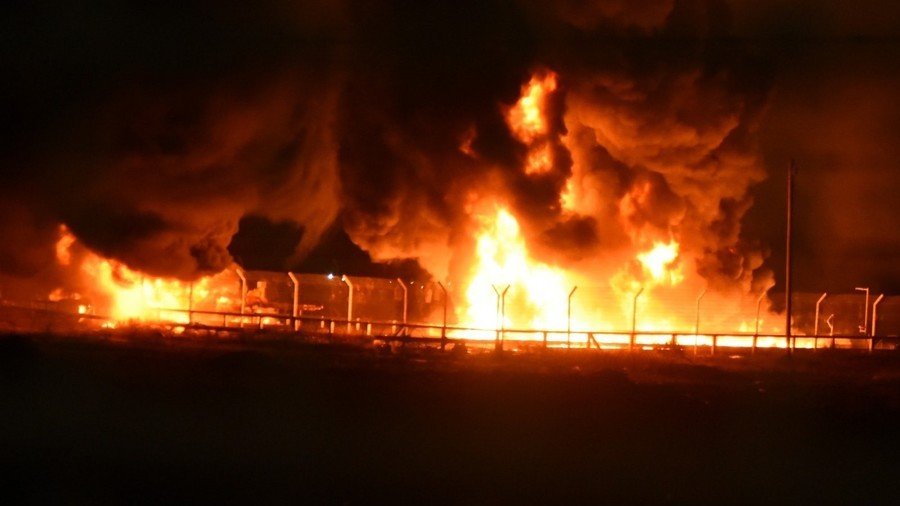 Palestinian protesters have started fires on the Palestinian side of the Kerem Shalom crossing between Israel and Gaza on Friday, damaging gas pipelines leading to the enclave, the Israeli Defense Forces (IDF) said.
Dozens of people took part in the attack, the military said, adding that they believe it was designed to "sabotage humanitarian efforts that Israel & other countries carry out." The IDF reiterated on Twitter that it holds Palestinian radical group Hamas "responsible for everything that happens in Gaza."
Earlier today, dozens of rioters vandalized & ignited fires on the Palestinian side of the Kerem Shalom humanitarian crossing in Gaza. The rioters damaged gas pipelines that run from Israel to Gaza & benefit the Gaza's residents pic.twitter.com/W1AY8dIPOU

— IDF (@IDFSpokesperson) 11 мая 2018 г.
Some 15,000 Palestinians rallied along the security fence with Israel on Friday as part of the Great March of Return protests, which have continued in the enclave since late March. The IDF again used lethal force against the people, who they said attempted to harm the Israeli troops.
One Palestinian was shot dead and at least 170 were wounded, some of the critically, across the Gaza strip on that day, which brought the number of those killed by Israeli forces during a six-week protest to 44 people.
READ MORE: Drones vs stones: Palestinian takes down 'Israeli UAV' with rock & slingshot (VIDEO)
The Kerem Shalom crossing is located near Israel's border with Egypt and is used by trucks, carrying goods and food supplies between Israel and Gaza. The border crossing was previously vandalized a week ago, with the protestors destroying and setting infrastructure on fire and damaging the pipelines.
If you like this story, share it with a friend!
You can share this story on social media: