Erdogan agrees with Putin that US withdrawal from Iran nuclear deal was 'a mistake' – source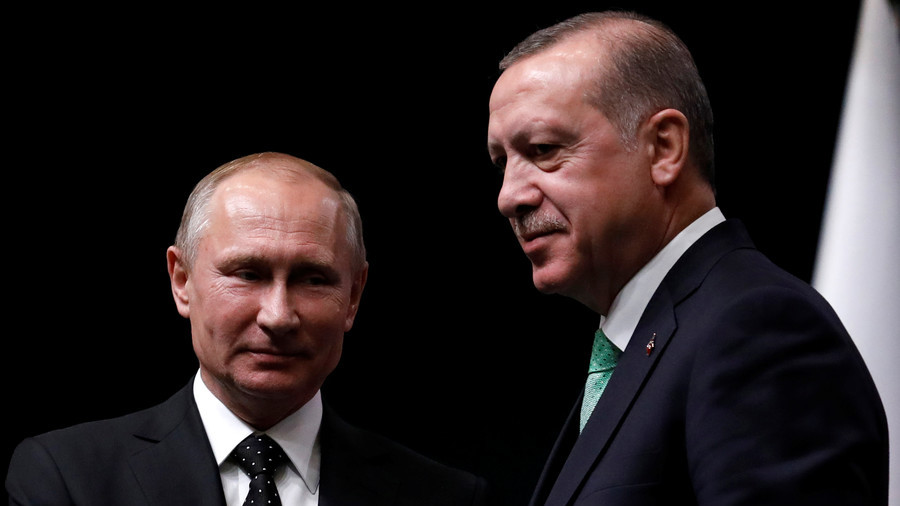 Turkish President Recep Tayyip Erdogan and his Russian counterpart, Vladimir Putin, discussed the US withdrawal from the Iranian nuclear deal on the phone, agreeing that Donald Trump's decision was wrong, a Turkish source said.
The two leaders discussed the US move on the phone on Thursday and "pointed out that it was a mistake," a source in the Turkish president's administration told RIA-Novosti. Erdogan and Putin also shared the opinion that "the Joint Comprehensive Plan of Action (JCPOA) is a diplomatic success, which must be preserved," it added. The official release on the Kremlin website says the two leaders discussed the American exit from the deal and the deal's importance, but it does not specifically mention any condemnation.
According to the source, the Turkish and Russian leaders also expressed concern over the recent escalation of tensions in Syria, as Israel carried out a massive airstrike against Iranian targets in the country early on Thursday.
Earlier in the day, Erdogan told Iranian President Hassan Rouhani on the phone that he thought that the US decision to withdraw from the nuclear deal was wrong, and stressed that the accord must be maintained.
The JCPOA deal, signed by Iran and P5+1 powers (China, France, Russia, the UK, the US, plus Germany) in 2015 after years of negotiations, saw international sanctions on Tehran lifted in exchange for Iran curbing its controversial nuclear program.
However, Trump, who was critical of the agreement even before becoming president and called it "the worst deal ever," has announced the US is withdrawing from the accord and reinstating restrictions against Iran.
On Thursday, the Iranian government issued a statement that Tehran will remain in the nuclear deal, pending talks on the future of the accord with its other signatories. However, the ministers stressed that no part of the 2015 agreement is up for renegotiation.
The US withdrawal caused massive disappointment in the EU, with European Commission President Jean-Claude Juncker blaming Washington for no longer being willing to "cooperate with other parts of the world." It was high time for the EU to "replace the US, which as an international actor has lost vigor, and because of it, in the long term, influence," he said.
READ MORE: Time to 'take fate into its own hands': Europe can't rely on US protection anymore, says Merkel
German Chancellor Angela Merkel also said that Europe can no longer count on the US in defense and "needs to take its fate into its own hand." Her stance was backed by French President Emmanuel Macron, who said: "Something should be done. Let us not be weak."