'Current mood: Natalya Poklonskaya,' Twitter trolls 'nyasha' MP at Putin inauguration
Published time: 7 May, 2018 13:18
Edited time: 8 May, 2018 10:36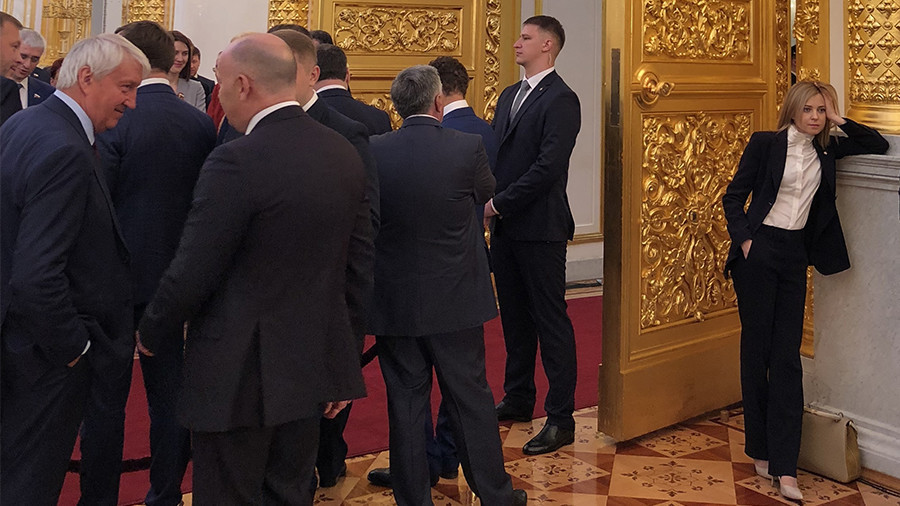 An image of MP Natalya Poklonskaya leaning against a wall ahead of Vladimir Putin's inauguration has gone viral, with some saying that her mood resembles their own every day.
The photo captured the former chief Crimean prosecutor standing near the entrance of the Andreyevsky Hall in the Kremlin Grand Palace before Vladimir Putin took the oath of office.
Poklonskaya has already been an internet sensation with her anime-style images going viral, during her days as Prosecutor General of Crimea. In Russia Poklonskaya got the nickname "nyasha" (sweetie), to which she once reacted by saying that she would prefer to be perceived as a prosecutor and will not tolerate any meaningless "nyash" or "myash" comments.
This time, unlike others in the room taking selfies, she was just leaning against the wall all by herself.
READ MORE: Japan's darling Natalia Poklonskaya on Tokyo Russia sanctions list
As soon as the photo appeared online, people racked their brains, guessing why the MP look so bored. "She was waiting for Nicholas II, but he didn't turn up," some people ironically noted in an apparent reference to Poklonskaya's repeated calls to ban the release of the 2017 film Matilda for its allegedly scandalous portrayal of the affair between Tsar Nicholas II and a ballet dancer.
Others say that they experience Poklonskaya-style feelings every day or at every (apparently boring) party.
"Current Mood: Natalya Poklonskaya," noted one more person, while another exclaimed: "I am 'Natalya Poklonskaya' at every party."
Poklonskaya's 'mood' inspired others on social media, who imagined the lawmaker in other locations.
Think your friends would be interested? Share this story!