Helicopter carrying bride crashes, bursts into flames, wedding goes ahead (VIDEOS)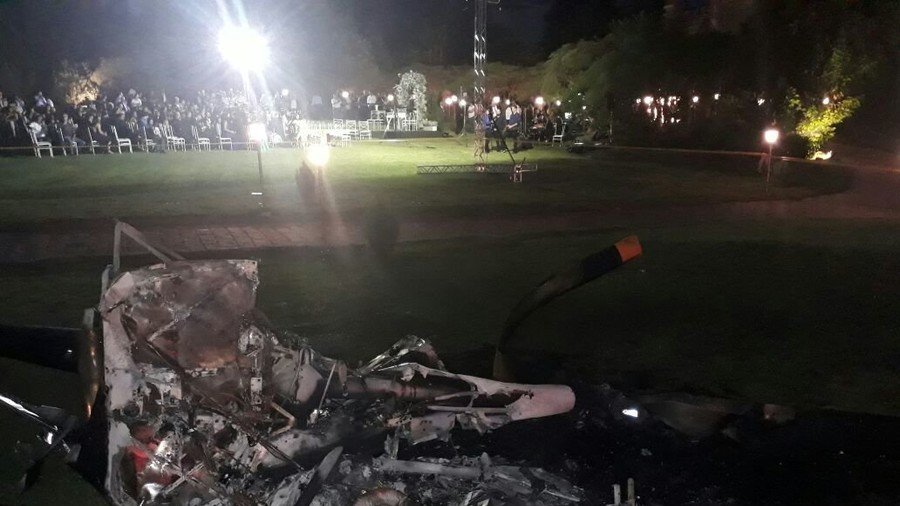 A Brazilian bride certainly made a show-stopping entrance when the helicopter carrying her to her wedding crashed in front of guests and later went up in flames. The crash did not stop the exchange of wedding vows, however.
Miraculously, the bride escaped the incident unscathed and went on to say 'I do' as planned at a vineyard north of Sao Paulo. Three others on board the helicopter –the pilot, a photographer and a child– were taken to hospital for minor injuries and were later discharged.
Footage shared online shows the helicopter hovering over the idyllic venue before it starts to spin out of control and crashes to the ground. The incident happened scarily close to where guests had gathered for the ceremony.
The aircraft exploded as soon as the passengers evacuated it but the blaze was quickly contained by fire crews. Another video clip, shared in a Whatsapp group, shows the aircraft in flames. Firefighters also posted a photo of the wreckage on Twitter.
Helicóptero R44 em chamas, após cair em Vinhedo/SP, no fim da tarde de hoje.Vídeo enviado em um grupo de Whatsapp. pic.twitter.com/lyWRANBQNH

— Marcel Cardoso (@AreaDoMarcel) May 5, 2018
Tivemos uma ocorrência de queda de helicóptero seguido de incêndio pela R Viena, 300 – Vista Alegre / Vinhedo, 4 vtrs do 7º e 19º Grupamento de Bombeiros atenderam. Fogo extinto pelo CB, pelo local estavam tripulando: uma noiva ( sem ferimentos ), piloto com escoriações, pic.twitter.com/rA7mSUpr5w

— 193-Bombeiros PMESP (@BombeirosPMESP) May 5, 2018
It's believed that the rear of the helicopter hit one of the castle's towers before losing control, O Globo reported.
According to the venue, Castelo dos Vinhais in Vinhedo, all members of the wedding party are well and celebrations went ahead at the request of the bride and groom. The accident will be investigated by civil police.
You can share this story on social media: