Pakistan's interior minister wounded in gun attack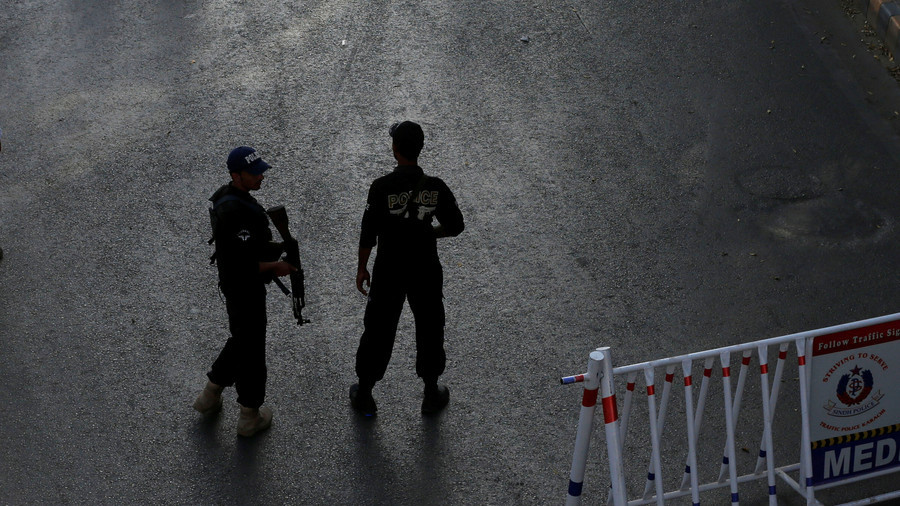 Pakistan's interior minister, Ahsan Iqbal, has been wounded in a gun attack in the eastern region of the central Punjab province, officials told local media.
Iqbal was shot in the shoulder at an election rally, according to Federal Minister Talal Chaudhry.
READ MORE: 3 suicide attacks kill 6 police in Quetta, Pakistan - officials
The politician is out of "immediate danger," his son Ahmad told local TV station Geo News. "He is being treated at the district headquarters hospital in Narowal. He is conscious and out of danger."
A suspect has been arrested and an investigation is underway, the government of Punjab province confirmed on Twitter.
According to a police report seen by Reuters, the 21 year-old suspect is affiliated to the new ultra-religious Tehreek-e-Labaik party, which focuses on highlighting and fighting blasphemy.The leader of the party, Khadim Hussain Rizvi, condemned the attack in a statement and said it was not authorized by his party.
Chief Minister Punjab @CMShehbaz has strongly condemned the assassination attempt at the Federal Interior Minister and PML-N leader @betterpakistan

— Govt Of The Punjab (@GovtOfPunjab) May 6, 2018
One of the shooter has been arrested and being interrogated by the police. Ahsan Iqbal is being treated at DHQ hospital Narowal.

— Govt Of The Punjab (@GovtOfPunjab) May 6, 2018
Strongly condemn the assassination attempt on my friend Ahsan Iqbal... Just spoke to him & he is in high spirits MashaAllah ... Those who indulged in this heinous act will be brought to justice... PMLN will not be browbeaten into submission... Prayers for quick recovery!! -ss

— Shehbaz Sharif (@CMShehbaz) May 6, 2018
Pakistan's prime minister, Shahid Khaqan Abbasi, has condemned the assassination attempt and requested a report on the incident from police.
Iqbal is also a leader of the Pakistan Muslim League (Nawaz). General elections are scheduled to take place in Pakistan in July to elect the country's National Assembly.
The interior minister expressed concerns last month that there was a conspiracy to impede the ruling PML-N party in the upcoming election.