Mini 'Grand Canyon': 6-story sinkhole opens up on NZ farm (PHOTOS, VIDEO)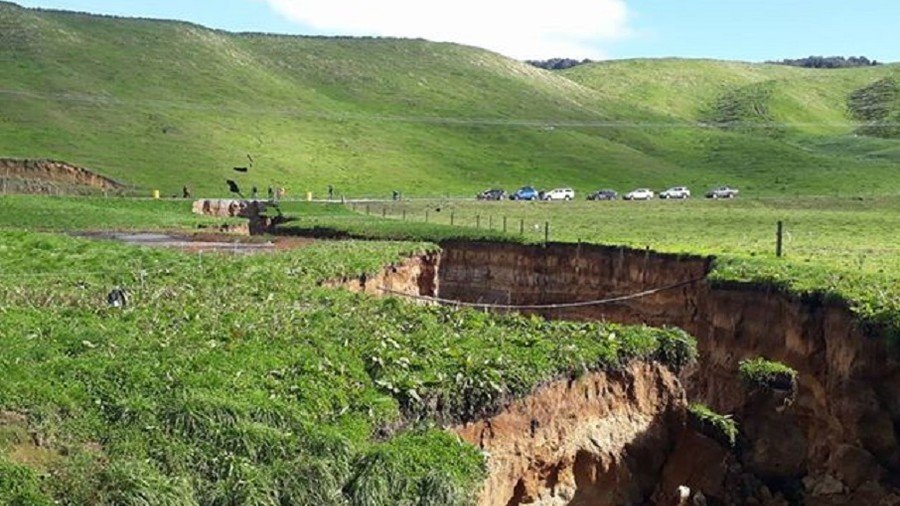 A giant sinkhole the depth of a six-story building and the length of two football fields has opened up on a New Zealand farm.
The huge chasm appeared after several days of heavy rainfall near the North Island town of Rotorua, reactivating a series of collapsed holes and causing a 500 meter crack along a fault line.
Farm manager Colin Tremain told RT.com he stumbled upon the sinkhole on Monday morning, guessing it opened up quickly some time on Sunday. Locally known as 'tomo' the hole is about 180 meters long, 20 meters wide and 20 meters deep (591ft x 66ft x 66ft).
This is the ninth sinkhole to form on the farm in recent years, however New Zealand GNS Science volcanologist Brad Scott told Newshub the sinkhole is three times larger than any he's seen before.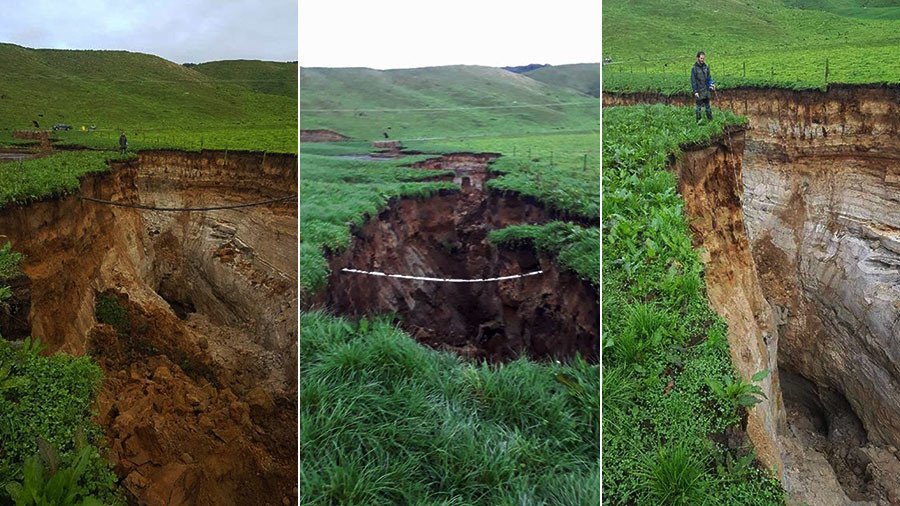 READ MORE: Subterranean fires & gold rushes: Meet America's ghosts towns (PHOTOS)
The 'tomo' also has some historical value, as it's soil revealed the hole to be a crater of a volcano that last erupted 60,000 years ago, creating a basin of internal drainage.
All the rain that falls in the crater was slowly draining through the easily eroded pumice-based soil into the Taupo Fault Belt, but a downpour of 170mm (7 inches) of rain in 32 hours last weekend caused the hole to collapse.
Going forward Tremain says they plan on erecting a temporary fence around what's now known as the "grand canyon of Rotorua" to keep people and livestock away from the edge until it stops growing. Afterward they'll post a permanent fence and plant around it.
Think your friends would be interested? Share this story!
You can share this story on social media: