Peppa blacklisted? China reportedly censors animated pig as an 'antisocial subculture icon'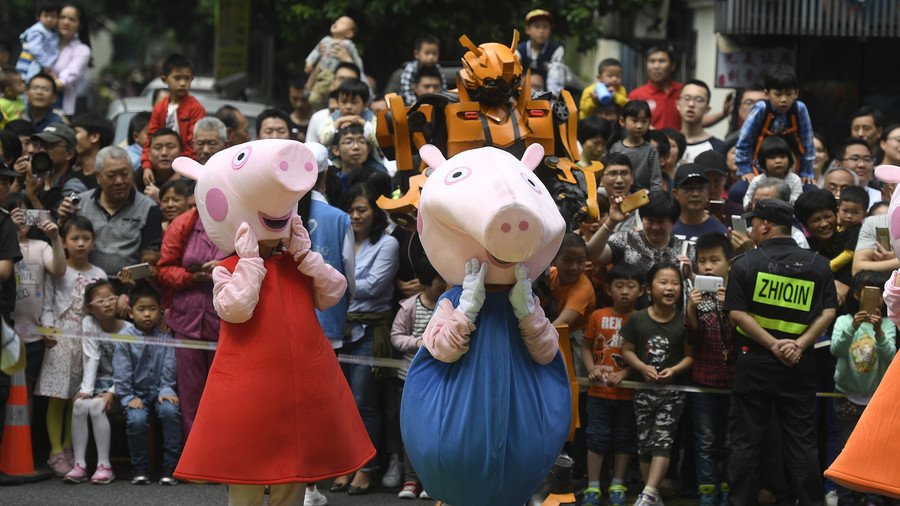 Images of Peppa Pig, the cartoon star of a TV show aimed at children, are reportedly being censored on a popular Chinese video-sharing website, over fears the animated porker is being increasingly used as a 'subversive icon.'
Videos featuring the pink pig have mysteriously disappeared from Chinese website Douyin, according to the Global Times, with suggestions that the cartoon has been blacklisted after becoming a icon for a subversive subculture.
First appearing on British television screens and officially coming to China three years ago, Peppa Pig has reportedly been co-opted by a movement known as Shehuiren – which roughly translates as 'society person', but in online Chinese slang means a person who chooses to be an outcast rejecting any mainstream values cultivated by the ruling party.
Peppa Pig aired in the UK for the first time almost 13 years ago and has since been translated into scores of different languages. In China, the show is shown on CCTV, after the broadcaster bought the rights in 2015.
The bizarre 'subversive icon' has since been appearing on trendy fashion items and in tattoos in China. According to Professor Haiqing Yu of Australia's RMIT University, Chinese citizens have a habit of using unusual characters as icons of protest.
"In China's strict environment, it's hard to directly criticize anything so they use round-about, joking ways. Peppa Pig is supposed to teach kids about the importance of family which is quite acceptable to the Chinese culture, but the fact that young people have turned it into something associated with a thug or a gangster, that's totally the opposite of what Xi Jinping has wanted China to be," the professor told SBS News.
It's not the first time a cartoon animal has fallen foul of censorship in China. Last year, Winnie the Pooh was banned in the country after the bear was used in a meme lampooning China's president Xi Jinping.
If you like this story, share it with a friend!
You can share this story on social media: