Saber-rattling Netanyahu insists he doesn't 'seek' war with Iran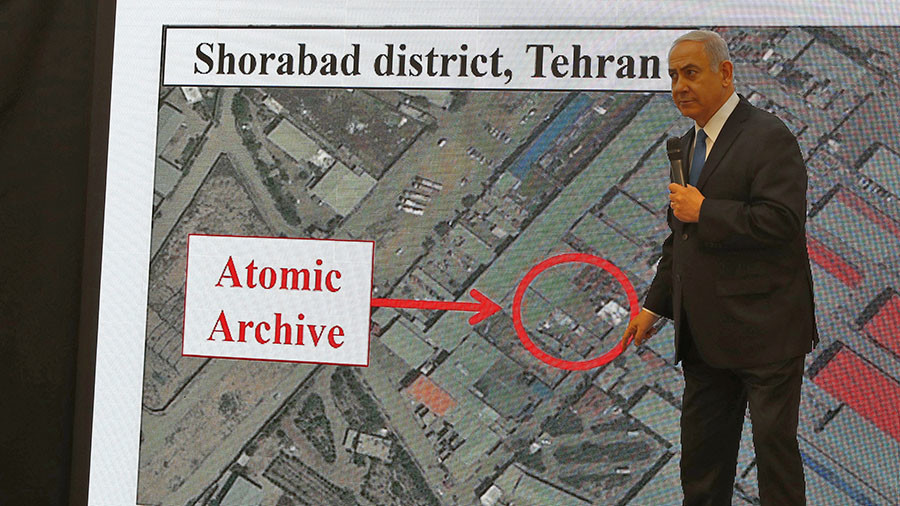 For those concerned about the prospect of war between Israel and Iran after Benjamin Netanyahu's picture-heavy presentation on Tehran allegedly breaking the nuclear deal, the Israeli prime minister has a calming message.
Asked whether Israel was prepared to go to war with Iran, Netanyahu told CNN: "Nobody's seeking that kind of development," adding: "Iran is the one that's changing the rules in the region."
The Israeli leader's actions tell a different story to his statement, however. In a televised address on Monday, Netanyahu said that Israeli intelligence agents had snatched files detailing an Iranian plan to mount nuclear weapons on ballistic missiles.
READ MORE: Pompeo lands in Saudi Arabia, immediately calls for new sanctions against Iran
During the theatrical address at Israel's Defense Ministry in Tel Aviv, Netanyahu presented a slideshow claiming the 2015 Iran nuclear deal was "based on lies." He showed some 100,000 copies of documents that he said prove Tehran "continued to preserve and expand its nuclear weapons know-how" after the signing of the deal.
Netanyahu's revelations come at a convenient time. US President Donald Trump has until May 12 to sign a sanctions waiver that allows the Iran deal to remain valid. If the waiver is not signed, the US withdraws from the agreement. The Iran deal places restrictions on the Islamic republic's nuclear program in exchange for sanctions relief. US President Donald Trump has called the deal a "disaster," and signalled yesterday that he would terminate the agreement unless it could be significantly reworked.
Iran's Foreign Ministry denounced Netanyahu's presentation, calling the Israeli leader a "broke and infamous liar who has had nothing to offer except lies and deceits." The United States, however, was quick to back up Netanyahu's Powerpoint claims.
Hours after his presentation, the Israeli Knesset voted to grant Netanyahu the power to declare war in "extreme situations" with just the authorization of his defense minister. While Netanyahu may claim to not want war, the passing of the authorization bill makes declaring war significantly easier.
While Israel has made efforts to prevent other regional powers from acquiring nuclear weapons, it is itself strongly suspected of being a nuclear power. The Israeli government has never officially acknowledged or denied this, but is believed to have an arsenal of 80 nuclear warheads, making it the only nuclear-armed state in the Middle East.
Relations between Israel and Iran have always been tense, but they have become more strained in recent months. After an Iranian drone entered Israeli airspace in February, Israel shot it down and struck the Iranian base in Syria from which the drone came. Another Israeli strike on the same base earlier this month killed seven Iranians.
Iran is an ally of the Syrian government, and controls several militias inside Syria, including the 10,000-strong Hezbollah al Nujaba militia, which said last year that it is "fully prepared" to fight Israel if commanded. Israeli strikes on Iranian targets inside Syria risks starting an open conflict between the two countries.
The US seems ready to blame Iran for any potential conflict. US Secretary of Defense James Mattis warned on Thursday that war between Iran and Israel is "very likely" due to Iran's continued involvement in Syria.
"I can see how it might start," he told Congress, "but I am not sure when or where."


Like this story? Share it with a friend!