Demonic Duterte effigy burned in Manila Labor Day protests (PHOTOS, VIDEOS)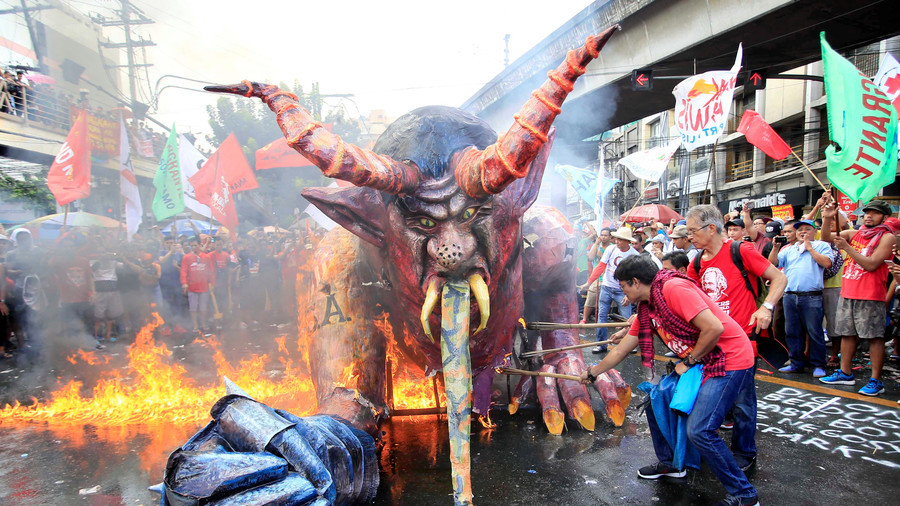 A huge demon-like effigy of Philippines President Rodrigo Duterte was burned by Labor Day protesters in Manila as around 5,000 people took to the streets demanding better living and working conditions.
Several of the biggest labor unions joined forces to demand an end to 'contractualization' – a practice of signing illegal contracts or subcontracts which circumvent workers' rights and undermine security of tenure.
READ MORE: 'He is my idol': Duterte cheers N. Korea's Kim despite branding him 'maniac' earlier
Duterte recently signed an executive order outlawing the practice. However, protesters say the move doesn't go far enough, decrying the order as "useless," the Philippines Inquirer reports. People marched through the streets with flags and banners before setting the effigy alight and dancing around it.
Demonstrators burned multiple effigies near the Presidential Palace, including elaborate depictions of Duterte himself as well as US President Donald Trump.
"The present administration is one of the worst, second only to the Marcos administration," Bonifacio Ilagan, a human rights activist told Ruptly. "Everything seems to be being thrown to the dogs," he stated. Former president of the Philippines Ferdinand Marcos ran the country as a brutal dictatorship from 1972 until 1981.
Think your friends would be interested? Share this story!